Samsung

PN43E450
Compare any two tvs and get extended reviews of both.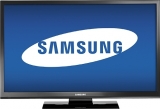 Easy to use remote control

Price

Nice picture quality

Lightweight
Average sound quality

Lack of inputs

Glare

Product Details:
Screen Size: 43 inch — Maximum Resolution: 1024 x 768 — Plasma — HDTV — Vertical Resolution: 720p — Screen Refresh Rate: 600 Hz — Aspect Ratio: 16:9 — (W) 39.88 x (H) 26.63 x (D) 10.38 inch.
Other tvs that satisfy your requirements
From

$427

—

Plasma

—

42 inch

—

720p

—

600 hz

—

3D

—

Smart TV

From

$362

—

Plasma

—

42 inch

—

720p

—

60 hz

—

3D
Often Compare:
Reviews
Great choice for your money
badboy, 02/04/2013
Experience of using: Few months
Pros: Good price, Amazing picture, Great quality for the money paid
Cons: Glare
I would highly recommend this Samsung TV for mid-sized rooms. It is a really good deal! I placed it in my bedroom. Great picture and I am glad that I chose Samsung.
Reasonable price and worthy buy.
Juder, 01/23/2013
Experience of using: 1 year or more
Pros: High refresh rate, Stunning picture, Accurate colors, Easy setup, Good sound
I couldn't resolve to buy this Samsung plasma for about several months. I like plasmas, because they offer accurate and vivid colors, sharp picture and bright display. Finally I left my doubts behind and purchased it. I don't regret my choice at all!
I am a real sports fan and watching games on this display is a great pleasure. I haven't noticed any issues during fast action scenes, everything is crisp and realistic. White tones are nice and blacks are deep. Of course I adjusted the settings a bit in the very beginning, they were accurate and easy-to-understand.
Internal speakers doesn't provide surround sound, but still they are pretty nice. I didn't link up my soundbar yet and I don't think that I will hook it up in the future. I am pleased!
Great quality and well-built product.
Denanhug, 12/07/2012
Experience of using: About 6 months
Pros: Easy to set up, Realistic colors, Fantastic picture, Various adjustable settings, Reasonable price
This is my first high-definition TV and it is the best purchase so far! I don't regret my choice at all, because picture is fantastic. It is really detailed, crisp and realistic. There are various settings to choose from and TV can be easily adjusted to meet everyone's preferences and expectations.
It took some time to figure out the menu, as it is a bit overwhelmed with animations. It would be great to have more connections, but still, at this price range, I can't complain.
Perfect 720p tv! No issues!
Cwelch, 10/08/2012
Experience of using: Less than a month
Pros: Deep blacks, Amazing picture, Good sound
Cons: One more HDMI would be great
I was looking for an affordable and high-end HD tv set and this Samsung answered my requirements well, especially considering the fact that it was on sale! First I chose Vizio, but their blacks are not so deep and rich. I am happy with the buy. Picture, colors and sound are great!
Value meets the price
Captrate, 10/06/2012
Experience of using: Less than a month
Pros: Right number of connections, Easy to use remote control, Fantastic picture, Good sound, Quick setup, Decent value for the money paid
Cons: Lacks 3.5 mm and VGA inputs
We ordered this TV for our bedroom. So far we are absolutely satisfied! Picture quality is awesome and at reasonable price.
Terrific quality and price
caneobie, 09/29/2012
Experience of using: Few months
Pros: Fast setup, Amazing picture, Acceptable price, Good remote control
Finally we replaced our old tube tv with a new flat-panel plasma! We couldn't be more pleased! Setup was fast and straightforward. We adjusted the color and brightness settings a bit, and now picture is absolutely fantastic. This Samsung model is great for watching movies and playing games. Strongly recommend!
General Features

1024 x 768

Display

Screen Size (Measured Diagonally)

43 inch.

720p

600 Hz

16:9

Connections

2

Composite Inputs (quantity)

1

Component Video Inputs (quantity)

1

Control

Standard

Audio

10

2

20 W

Energy

155 kWh/year

Estimated Yearly Operating Cost

$17

Other Features

036725236813

ATSC, NTSC, QAM

Dimensions

39.88 inch.

26.625 inch.

24.5 inch.

10.375 inch.

2.25 inch.

Warranty

1 year limited

1 year limited
Add Review