LG

47LS4600
Compare any two tvs and get extended reviews of both.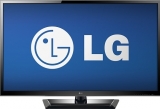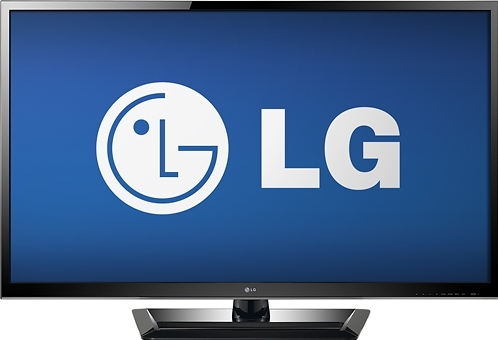 Nice image quality

Easy to set up

Energy efficient

Easy to use remote control
Lack of inputs

Average sound quality

Product Details:
Screen Size: 47 inch — Maximum Resolution: 1920 x 1080 — LED — HDTV — Vertical Resolution: 1080p — Screen Refresh Rate: 120 Hz — Aspect Ratio: 16:9 — Contrast Ratio: 4,000,000:1 — (W) 42.9 x (H) 28.5 x (D) 10.63 inch.
Other tvs that satisfy your requirements
From

$1017

—

LED

—

47 inch

—

1080p

—

120 hz

—

3D

—

Smart TV

From

$959

—

LED

—

47 inch

—

1080p

—

120 hz

—

3D

—

Smart TV

From

$989

—

LED

—

47 inch

—

1080p

—

120 hz

—

3D

—

Smart TV

From

$949

—

LED

—

47 inch

—

1080p

—

120 hz

—

3D

—

Smart TV

From

$932

—

LED

—

47 inch

—

1080p

—

120 hz

—

3D

—

Smart TV
Often Compare:
Reviews
Excellent wall tv!
Petekendra, 01/23/2013
Experience of using: Few months
This TV is very thin and attractive. We hang it on the wall. Menus and settings are nice and easy-to-navigate. Viewing angle is wide, what adds more convenience. Price was acceptable too.
Should be adjusted.
Cldjose, 01/01/2013
Experience of using: Less than a month
Cons: Glare is annoying, Poor factory settings
Factory settings are not the best. Back-lighting is too bright, so it should be adjusted. Glare is another problem, it is rather annoying, especially when you try to watch an interesting movie or show.
Absolutely satisfied! 150%!
tbashlz, 01/01/2013
Experience of using: Less than a month
Pros: Lightweight, Great picture, Easy setup, Nice colors, Well-designed,
Cons: Average sound quality, so external sound system is a nice addition!
This is my first LED tv and I couldn't be happier! It had modern design- thin and lightweight. I am really impressed by the picture quality, it is sharp and detailed. Setup and settings' adjustments were easy and quick.
Sound is average. Yes it doesn't sound as in a cinema, but I connected my sound system and solved this problem easily.
In general this tv is great and now watching sports is twice better! Screen size is just right, suited my room perfectly well.
My second LG
Coop, 12/11/2012
Experience of using: Few months
Pros: Picture is great
Cons: Terrible sound
I own LG lcd hd model and I am absolutely satisfied with it, so, basing on this idea, I decided to get this 47 inch unit. To tell you the truth, I can hardly see any difference in pictures, between my older LG and this one. Picture is great in both cases, but if I had to choose between my older and this one, then I won't definitely go for an older tv. The problem is the sound, it is terrible! Buy external speakers at once, take care of your ears!
Overall it is a good tv.
Raenesha, 10/23/2012
Experience of using: About 6 months
Pros: Great picture quality, Realistic colors, Good screen size, Wide contrast ratio, High refresh rate
Cons: Terribly tinny sound
My old Sony tv died and I had to find a decent replacement. I did a great research, before making a decision and finally I singled out three brands- Lg, Sharp and Samsung. After reading numerous users' reviews, I chose Lg, though I often met reviews with negative opinion about the sound quality. Users noted that it is tinny. Well, I decided to check that.
This LG product was delivered to our house in August'12. After over six months of use, I can tell for sure that picture quality is amazing! I often watch HD movies and they are displayed in superior quality!
Concerning the sound. I will agree with most customers, as speakers are terribly weak. If you try to increase the volume, then speakers start to vibrate and become noise. So trying to catch the dialog becomes annoying and hard.
If you don't have an external sound system, then I won't advise you to buy this TV model, but if you already have it, then it is a great choice!
General Features

1920 x 1080

Display

Screen Size (Measured Diagonally)

46.9 inch.

1080p

120 Hz

16:9

4,000,000:1

Connections

3

Composite Inputs (quantity)

1

Component Video Inputs (quantity)

2

1

Control

Standard

Audio

10

2

20 W

Energy

Power Consumption (watts) Stand-by

0.1

127 kWh/year

Estimated Yearly Operating Cost

$14

Other Features

719192585249

English, French, Spanish, Korean

ATSC, NTSC, QAM

Dimensions

42.9 inch.

28.5 inch.

25.875 inch.

10.625 inch.

1.5 inch.

Mount Bracket/VESA Pattern

400 x 400 mm

Warranty

1 year limited

1 year limited
Add Review