KitchenAid

KFXS25RYMS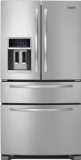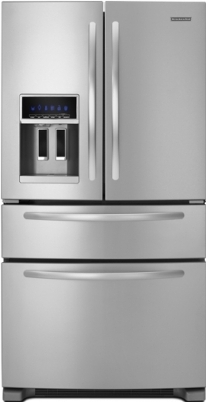 Other refrigerators that satisfy your requirements
From

$-1

—

Freestanding

—

French Door

—

25.8 cu. ft.

—

Stainless Steel

—

35.75 in.

—

35.625 in.

—

Undercounter

—

Energy Star
Often Compare:
Reviews
Not much ice
ruttschaw, 12/30/2012
Experience of using: Less than a month
Pros: Attractive design, Good illumination
Cons: Slow ice-maker
I like this device except that I need to wait long time till to get enough ice. Ice-maker is really bad. The rest of features are good though. Light inside is excellent. Both refrigerator and freezer have a lot of storage space.
It was my mistake
Stewert, 12/20/2012
Experience of using: Few months
Pros: Attractive design
Cons: Poor quality
It's difficult, when you see something looking nice, to not purchase it, but my experience proves that you should read thousand reviews before buying anything. This fridge has horrible ice-maker. I had it fixed twice and anyway it doesn't work. I wasted time and money. I will not buy anything of this brand any more.
Not bad unit but Noisy
Abcrowe, 10/25/2012
Experience of using: About 6 months
Pros: Attractive design, Easy to use, Energy efficient
Cons: Noisy
At first look at this fridge, you will see many advantages. It preserves food well and especially fruit and vegetables (which are major part of my products) stay fresh long time. Shelves and drawers are very convenient to use. As I've been using it now for around half year I noticed reasonable savings on my electricity bill, so it's much more efficient than my old device. It looks amazing and I was waiting for sale to get this unit quite a long time. The only drawback is its noisiness. They should have worked better on this aspect. Overall I'm happy with it and as long as I don't sleep in kitchen this unit is just perfect. Don't hesitate to buy it.
Excellent fridge
belinda, 10/07/2012
Experience of using: Few months
Pros: Attractive design, Customizable shelves, Easy access, Spacious
This fridge is top of our family happiness. We purchased it a couple of months ago and we are so pleased with its work and features. There is much room and all 5 members of our family can locate their products. Adjustable shelves give more opportunities for storing tall items. Also the fact that all products are at eye level is very convenient. Perfect unit!
General Features

Architect II

Freestanding

French Door

Full Size

Stainless Steel

25 cu. ft.

18.4 cu. ft.

6.6 cu. ft.

Dispenser

Door

Smooth

Shelves

Humidity Controlled Crispers

1

5

Control

Digital Temperature Control

Energy

15 A

Other Features

Automatic

Approved for Commercial Use

Standards/Ratings

Dimensions

35.625 in.

70.125 in.

35.625 in.

32.875 in.

48 in.

Miscellaneous

883049225081
Add Review