KitchenAid

KGRS505XSS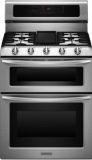 Other ranges that satisfy your requirements
From

$1369

—

Freestanding

—

Gas

—

5

—

Convection

—

29.94 inch

—

16000 btu

From

$1334

—

Freestanding

—

Gas

—

5

—

Convection

—

29.94 inch

—

16000 btu

From

$1426

—

Freestanding

—

Gas

—

5

—

Convection

—

29.94 inch

—

16000 btu

From

$1353

—

Freestanding

—

Gas

—

5

—

Convection

—

29.94 inch

—

16000 btu

From

$1293

—

Freestanding

—

Gas

—

5

—

Convection

—

29.94 inch

—

16000 btu
Often Compare:
Reviews
Not really stainless steel.
CraigC, 11/07/2012
Experience of using: 1 year or more
Pros: High-powered burners, Large capacity
Cons: Hard to keep clean, Not durable, Poorly built, Unreliable
We own this range for over a year and we had enough problems with it during this time. In the beginning the grates started to rust – they were replaced during the first two weeks of owning. Not so long ago the right burner stopped working. It got stuck and wouldn't work anymore. These days another burner, the left one, stopped working. Besides there are some stains on the surface and none of the cleaners help.
This range is a big disappointment for me. I expect too have even more problems in the future, but we will see....
Just "WOW" and nothing more!
Beema, 10/22/2012
Experience of using: Few months
Pros: Cooks well, Heats evenly, Large surface area, Responsive burners, Simple controls, Versatile performance
Our previous stove served us for over 30 years and finally it broke. I do love cooking, that's why the selection was rather hard. This KitchenAid range is great and I love it. Variety of burners let me cook several dishes at once and the cooking surface is large enough. The ovens bake evenly and quickly.
In general the the range is easy to use and the controls are almost intuitive. It is just gorgeous!
Attractive design, but nothing more.
The Rose, 09/06/2012
Experience of using: Few months
Pros: Large capacity, Stylish look
Cons: Design flaw, Poorly built, Small surface area
Double oven is great. Huge capacity and, as a result, more cooking opportunities. This range matches my kitchen interior very well, but it caused me a lot of problems during 4 months of use.
This range is poorly designed and it is extremely inconvenient. I hate it! The proportions of the cooktop are awful. I can't have two pans on one side at once. They don't fit! Knobs take up about 6 inches of the cooking area! Do I really need that?! I am very disappointed. I liked my old range more.
General Features

Stainless Steel

Freestanding

Architect II Series

3.9 cu. ft.

2.1 cu. ft.

3.9 cu. ft.

5

Cycle Features

Controls

Knobs

Digital

Technical Details

Top

Sealed Burner

Electronic

Energy

120 V

15 A

Fuel Features

Gas

Other Features

Digital Temperature Display

Oven

Hot Surface Indicator Light

Self-Clean

Cast Iron

Output Power

1

16000 BTU

1

10000 BTU

2

5000 BTU

Dimensions

29.94 inch

47.13 inch

28.5 inch

Miscellaneous

883049199481
Add Review