KitchenAid

KDRS505XSS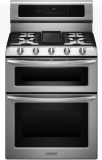 Other ranges that satisfy your requirements
From

$6594

—

Freestanding

—

Dual Fuel

—

5

—

Convection

—

Natural / Propane

—

29.94 inch

—

15500 btu

From

$6526

—

Freestanding

—

Dual Fuel

—

5

—

Convection

—

Natural / Propane

—

29.94 inch

—

15500 btu

From

$6594

—

Freestanding

—

Dual Fuel

—

5

—

Convection

—

Natural / Propane

—

29.94 inch

—

15500 btu

From

$6594

—

Freestanding

—

Dual Fuel

—

5

—

Convection

—

Natural / Propane

—

29.94 inch

—

15500 btu

From

$6172

—

Freestanding

—

Dual Fuel

—

5

—

Convection

—

Natural / Propane

—

29.94 inch

—

15500 btu
Often Compare:
Reviews
So far it is a good stove.
Fiona730, 09/29/2012
Experience of using: Few months
Pros: High-powered burners, Large capacity, Versatile performance
Cons: Small surface area, The bottom oven is placed too low
This double oven range is reasonably priced. Huge oven capacity allows to cook two dishes at once, what is very convenient. I tried to accommodate three, but they turn out to be too close to each other. I often use ovens fr frozen pizza, nuggets, etc. Burners are powerful and work well, but they are too close to each other and it is not possible to use several big pots and pans on one side at the same time. Lock feature is very convenient for me.
The bottom oven is located very low, so it is inconvenient to get food out of it. But overall I am very pleased with the purchase.
General Features

Stainless Steel

Freestanding

Architect II Series

2.5 cu. ft.

4.2 cu. ft.

5

Cycle Features

Controls

Knobs

Digital

Technical Details

Top

Sealed Burner

Electronic

Energy

240/208 V

40 A

Fuel Features

Dual Fuel

Natural / Propane

Other Features

Digital Temperature Display

Oven

Hot Surface Indicator Light

Dimensions

29.94 inch

47.13 inch

28.5 inch
Add Review