Electric Rangetops
1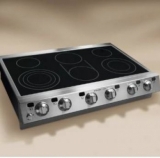 Not Available
Features:
Color: Stainless Steel
Set 1 Output(Electric): 3000 W
Fuel Type: Electric
Style: Smoothtop
Burners: 6
(W) 35.88 x (D) 25.75 x (H) 7.75 in.
Learn More
Interesting facts about Electric Rangetops
Today people are offered a great variety of kitchen appliances, which can simplify their lifestyle and provide with more cooking opportunities. Hundreds of manufacturers offer modern, high-end and multi-functional products, but still the most important role belongs to the rangetops. This type of devices has come through a long history of improvements and now it is available in various designs, sizes, colors and configurations.
The days, when gas models have been the most highly-demanded products, are gone. In numerous reviews consumers and experts note that electric range tops have won the top ranking, due to the number of benefits, which they provide. These items have flat tops and they are easier to clean up. Besides they are more efficient, as there turn out to be less space between the heating element and the pot, so heat is distributed more evenly.
Most modern models of electric rangetops come with an indicator light that warns you when one of the burners is one and hot. This ensures safer operation and also saves your energy, preventing any extra-pays on electricity bills. What is more, these items guarantee long-lasting and reliable performance; they are more affordable, than gas competitors and they are much easier to install. So thinking of upgrading your kitchen, start with the selection of an electric range top, because it will definitely become the heart of your kitchen.