Samsung Ranges with Induction
1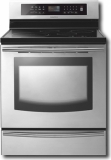 Not Available
Features:
Cooktop: Smoothtop
Induction
Primary Oven Capacity: 5.9 cu. ft.
Style: Freestanding
Fuel Type: Electric
Burners: 4
Convection
Set 1 Output(Electric): 3700 W
(W) 30 x (H) 47.06 x (D) 19.25 in.
Learn More
Learn more about Samsung Ranges with Induction
Kitchen appliances manufacturers all over the globe are on a quest of finding new ways to attract customers with. Induction effect was applied for cooking about a century ago. Since that time this technology has improved, and now induction elements usage is the most energy-efficient and fastest method of cooking. Samsung is one of the brands that use induction for stoves manufacture.
According to this technology, magnetism is used to heat food directly without heating the cooktop surface. So you should not worry about your children who can touch the surface. Besides, heat is spent only on heating cookware. It means that you save your money and has the possibility to enjoy cool atmosphere in the kitchen. One more advantage that these induction ranges offer is SelectTouch feature. Thanks to this technique you can easily control your stove. Among Samsung range reviews owners point that induction stove surface is easy to clean because food does not burn.
So quick cooking, safe operation, efficiency and easy-to-clean surface are the most crucial advantages that make these devices the best choice for both professionals and house owners. Plus one more thing that we should not forget about is a label of top-quality devices manufacturer that Samsung has reached. All these points confirm the statement that induction ranges of this brand are worth to be bought.