Whirlpool

RBD305PVS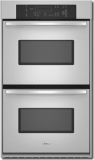 Other wall ovens that satisfy your requirements
From

$1457

—

Double

—

Electric

—

4.2 cu. ft.

—

Stainless Steel

—

30 inch

—

Convection

—

Microwave

From

$1414

—

Double

—

Electric

—

3.8 cu. ft.

—

Stainless Steel

—

30 inch

—

Convection

—

Microwave

From

$1806

—

Double

—

Electric

—

4.4 cu. ft.

—

Stainless Steel

—

29.75 inch

—

Convection

—

Microwave

From

$1375

—

Double

—

Electric

—

4.3 cu. ft.

—

Stainless Steel

—

28.5 inch

—

Convection

—

Microwave

From

$1551

—

Double

—

Electric

—

4.3 cu. ft.

—

Stainless Steel

—

27 inch

—

Convection

—

Microwave
Often Compare:
Reviews
Poor quality!
Lilee, 01/03/2013
Experience of using: Few months
Cons: Design flaw, Imprecise temperature control, Not durable, Poor customer service, Unreliable.
This oven never kept the set temperature and now it doesn't work at all! We used the self-clean option and it stopped working. Of course we called the customer service and it turned out that they already knew about this problem. Do you consider this to be normal?!
If you still decide to buy this Whirlpool oven, then don't use the self-clean feature.
Nothing, but troubles.
Melissa85, 10/18/2012
Experience of using: 1 year or more
Cons: Poorly built, Not durable, Unreliable..
We own this oven for about 3 years and it caused us too many problems! It had to be repaired 3 times and the last repair was about 6 months ago. We read other reviews and noticed that many customers suffer from similar problems. Stay away and don't waste your money!
General Features

Stainless Steel

Double

4.1 cu. ft.

4.1 cu. ft.

Other Features

Digital Temperature Display

None

Cycle Features

Controls

Digital

Energy

240/208 V

40 A

Fuel Features

Electric

Technical Details

Top

Dimensions

30 inch

51 inch

26 inch

Miscellaneous

883049142845
Add Review