KitchenAid

KEMS308SSS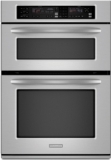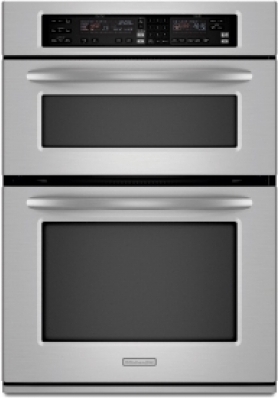 Other wall ovens that satisfy your requirements
From

$2350

—

Double

—

Electric

—

4.3 cu. ft.

—

Stainless Steel

—

29.75 inch

—

Convection

—

Microwave

From

$1650

—

Double

—

Electric

—

4.3 cu. ft.

—

White

—

29.75 inch

—

Convection

—

Microwave

From

$1485

—

Double

—

Electric

—

4.3 cu. ft.

—

Black

—

29.75 inch

—

Convection

—

Microwave
Often Compare:
Reviews
This is my first wall ovens and I love them!
JamesBrody, 11/16/2012
Experience of using: Few months
Pros: Good power output, Heats evenly, Modern style.
I chose KitchenAid wall ovens due to their modern style and good company's reputation. Both ovens work perfectly! Convection oven is a real time-saver. It browns the dishes and bakes/roasts the dishes to perfection. They are easy to clean, the interior is flexible and glass door is extremely useful. I some reviews customers complained about the preheat time, that it takes too much time, well, for me this is not a problem at all. In this case I have enough time to prepare the meal.
I do like the oven!
Pikxi_Ixy, 11/09/2012
Experience of using: About 6 months
Pros: Heats evenly, Modern style.
Cons: Long preheat time, Pricey.
We purchased this combo during kitchen remodeling. It is well-designed and functional. The oven is very large and it allows me to cook several dishes at once. Very handy! It seems to me that preheat takes more time, but I don't see any serious problem about that.
Experienced customer.
karyn5232, 10/29/2012
Experience of using: 1 year or more
Pros: Modern style, Roomy, Various settings.
Cons: Expensive repair, Heats unevenly, Pricey, Unreliable.
We own this combo for about 3 years. In a year after the purchase we had to fix the fan in the oven. The repair was rather expensive for us. Now microwave oven has to be fixed. Magnetron has stopped working and it would be an extremely expensive repair!
Concerning the rest... Dishes are cooked unevenly and convection feature could be better. The only advantage that I see now is flexible interior.
Problems with self-cleaning feature.
KCmartin, 10/03/2012
Experience of using: About 6 months
Pros: Heats evenly, Modern style, Roomy, Simple controls.
Cons: Unreliable.
This morning I surf on the Internet and read other customers reviews. Wish I had did that earlier. Last night I used the self-clean feature and now oven doesn't work at all. I will try to contact the customers service these days.
I am very disappointed. KitchenAid should have solved the problem before! They should stand behind their products.
General Features

Stainless Steel

Double

4.3 cu. ft.

1.4 cu. ft.

Architect Series II Series

Other Features

Digital Temperature Display

None

3

Self Clean with Variable Soil Level/Time Selections

Cycle Features

Controls

Sensor Touch

Energy

240/208 V

40 A

Fuel Features

Electric

Technical Details

Top

Dimensions

29.75 inch

42.31 inch

26 inch

Miscellaneous

688057370599
Add Review