KitchenAid

KEBS207SSS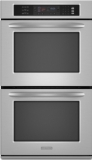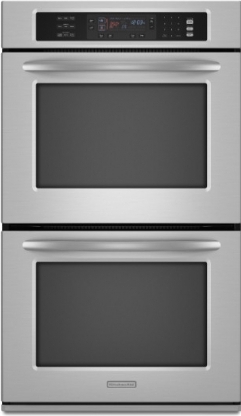 Other wall ovens that satisfy your requirements
From

$2499

—

Double

—

Electric

—

4.3 cu. ft.

—

Stainless Steel

—

29.75 inch

—

Convection

—

Microwave

From

$2452

—

Double

—

Electric

—

4.4 cu. ft.

—

Stainless Steel

—

29.75 inch

—

Convection

—

Microwave

From

$2120

—

Double

—

Electric

—

4.4 cu. ft.

—

Stainless Steel

—

29.75 inch

—

Convection

—

Microwave

From

$2018

—

Double

—

Electric

—

4.1 cu. ft.

—

Stainless Steel

—

29.75 inch

—

Convection

—

Microwave

From

$2591

—

Double

—

Electric

—

4.7 cu. ft.

—

Stainless Steel

—

29.75 inch

—

Convection

—

Microwave
Often Compare:
Reviews
Unbelievable!
Margie S., 11/16/2012
Experience of using: Less than a month
Pros: Modern style, Roomy.
Cons: Dangerous, Poor customer service, Unreliable..
During the check, at 300 degrees, the bottom oven glass exploded! Customers service was almost helpless. Yes, they sent us the new glass, but not a door. I haven't even used them, but one of the ovens have already been repaired. Is that normal???! I am very disappointed. Be aware and think well before buying!!
Excellent quality!
Romando8c, 10/28/2012
Experience of using: Few months
Pros: Flexible interior, Good power output, Heats evenly, Modern style, Roomy, Various settings..
I haven't found anything that I dislike about this ovens, though I use them for about two or three months. I even like the blue interior, as it is much more attractive than a traditional black one. Slide-out racks are very handy, as they allow to check hot stuff without getting it off the unit. All the dishes are baked and roasted evenly.
I am very happy with the experience!
General Features

Stainless Steel

Double

4.3 cu. ft.

4.3 cu. ft.

Architect Series II Series

Other Features

Digital Temperature Display

None

Self Clean with Variable Soil Level/Time Selections

Cycle Features

Controls

Sensor Touch

Energy

240/208 V

30 A

60 Hz

Fuel Features

Electric

Technical Details

Bottom

Dimensions

29.75 inch

50.75 inch

23.25 inch

Miscellaneous

883049034829
Add Review