Electrolux

EW30EW65GS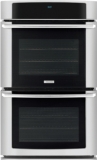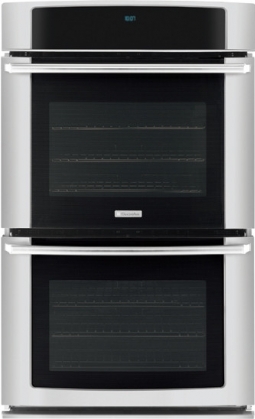 Modern style

Good lighting

Simple controls

Convenient features
$57

Product Details:
Double — Primary Oven Capacity: 4.2 cu. ft. — Convection — Interior Light — Removable Door — Electric — (W) 30 x (H) 50.44 x (D) 24.5 inch
Other wall ovens that satisfy your requirements
From

$3919

—

Double

—

Electric

—

3.9 cu. ft.

—

Stainless Steel

—

29.88 inch

—

Convection

—

Microwave
Often Compare:
Reviews
Amazing oven, but there is a fan issue.
RudyWhoFly, 11/04/2012
Experience of using: Few months
Pros: Modern style, Roomy, Simple controls, Various settings.
Cons: Unreliable.
Outstanding oven! We are still learning to use it, but we have had to call a repairman already. Not a pleasant thing... Now there is another problem: the exhaust fan doesn't stop working. It runs quietly, but something is wrong. Will have to contact the service once again...
I love this double oven!
Erica, 10/31/2012
Experience of using: Few months
Pros: Cooking performance, Modern style, Simple controls, Various settings..
Our old combo (microwave/oven) finally died and we got this Electrolux ovens to replace it. They are absolutely awesome! Stylish design, simple controls and various features that I use often. I often make bread and "bread proof" option is very handy! Preheat function is useful when I am in a hurry and "keep warm" option is the most "widely-used" in our house. They are the best for me!
Upset
Desert_Mike, 10/29/2012
Experience of using: 1 year or more
Pros: Simple controls.
Cons: Poor quality, Hard to clean, Unreliable..
This ovens look beautiful, but the problems began as soon, as they arrived. The bottom oven didn't work from the very beginning. We spent about two months to get it fixed. In about 6 months the oven started beeping. Very annoying! We contacted customer service and they advised us to plug out the unit. Well, that helped, for some time, so we had to repeat this procedure several times. In the end we tried to get some service with problem fixture from the company, but they told us that the warranty period is now over and we have to pay for the repair. We also have to replace glass, because it cracked during self-clean option was used. Expenses again... For such price, I would definitely choose another brand!
General Features

Stainless Steel

Double

4.2 cu. ft.

4.2 cu. ft.

Wave-Touch Series

Other Features

Digital Temperature Display

None

Power Supply Connection Location

Left Bottom Rear

Cycle Features

Controls

Sensor Touch

Energy

240/208 V

40 A

Fuel Features

Electric

Technical Details

Top

Dimensions

30 inch

50.4375 inch

24.5 inch

375 lbs

395 lbs

Miscellaneous

057112097138
Add Review