Samsung

UN32EH4000
Compare any two tvs and get extended reviews of both.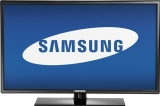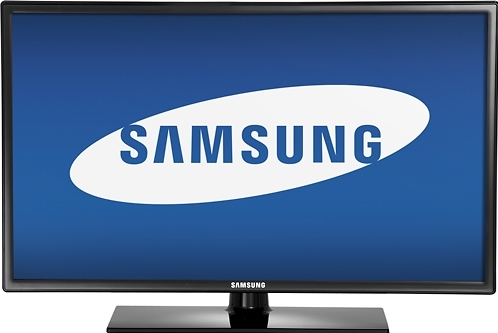 Modern style

Easy to set up

Price

Nice picture quality
Lack of inputs

Average sound quality

Product Details:
Screen Size: 32 inch — Maximum Resolution: 1366 x 768 — LED — HDTV — Vertical Resolution: 720p — Screen Refresh Rate: 60 Hz — Aspect Ratio: 16:9 — Contrast Ratio: 3,000,000:1 — (W) 29.13 x (H) 19.5 x (D) 7.5 inch.
Other tvs that satisfy your requirements
From

$284

—

LED

—

32 inch

—

720p

—

60 hz

From

$349

—

LED

—

32 inch

—

720p

—

60 hz

—

3D

—

Smart TV

From

$323

—

LED

—

32 inch

—

720p

—

60 hz

From

$391

—

LED

—

32 inch

—

720p

—

60 hz

—

3D

—

Smart TV

From

$328

—

LED

—

32 inch

—

720p

—

60 hz
Often Compare:
Reviews
Good viewing angle
Xscash, 01/24/2013
Experience of using: Less than a month
We chose this TV for our shop, so the main criterion was a wide viewing angle. This Samsung model has it, so our customers can watch videos from the sides or straight, without any loss in quality. Very convenient. Anti-glare protection is a great bonus.
It can't disappoint
B14w, 01/19/2013
Experience of using: Few months
This is a really good TV model! Picture is just great, sharp and clear. Colors are deep and rich. The unit has a wide viewing angle and there is no quality loss, even while watching from the side. Sound is average, but I wouldn't advise to expect much from a TV of this price range. Moreover, reading various reviews I learned that it is a common problem of flat-screen devices of this size. This is a good value for the money! I am absolutely satisfied.
Almost perfect tv.
choudhrym, 01/13/2013
Experience of using: About 6 months
Pros: Easy to use remote control, Numerous settings, Excellent picture, Decent sound
I chose this Sams model among others and I am absolutely pleased. There are numerous settings and excellent picture quality, very crisp and clear. Sound is good for me. Remote control is easy to use and it comes with backlighting, what is very convenient. Worth buying!
Excellent bedroom television!
Simzgirl, 12/10/2012
Experience of using: Few months
It is a reasonably-priced and quality tv for medium-sized rooms. We bought it for our bedroom and didn't miss. Screen size is great and picture quality is awesome! I wasn't looking for a tv with 1080p resolution, because for a 32" unit 1080p is too much. 720p is absolutely perfect! I would strongly recommend it to anyone, who is looking for a high-definition tv!
Nice and compact tv
Nwible, 10/24/2012
Experience of using: About 6 months
Pros: Great picture quality, Easy to set up, Good screen size
I bought this Samsung product for a gift. It is very nice. Picture is bright, detailed and clear. There is no blurring or ghosting during fast-actions scenes. I recommend this unit to anyone without any doubts.
General Features

1366 x 768

Display

Screen Size (Measured Diagonally)

31.5 inch.

720p

60 Hz

16:9

3,000,000:1

Connections

2

Component Video Inputs (quantity)

1

1

Control

Audio

10

2

20 W

Energy

Power Consumption Power On

29 W

54 kWh/year

Estimated Yearly Operating Cost

$6

Other Features

036725236585

ATSC, NTSC, QAM

Dimensions

29.125 inch.

19.5 inch.

17.25 inch.

7.5 inch.

3.625 inch.

Mount Bracket/VESA Pattern

200 x 200 mm

Warranty

1 year limited

1 year limited
Add Review