Whirlpool

GZ25FSRXYY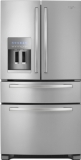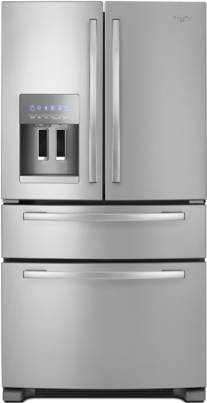 Other refrigerators that satisfy your requirements
From

$2404

—

Freestanding

—

French Door

—

26.6 cu. ft.

—

White

—

35.625 in.

—

35.25 in.

—

Undercounter

—

Energy Star
Often Compare:
Reviews
I will never buy Whirlpool
Booth11, 02/04/2013
Experience of using: About 6 months
Cons: Poor quality
It's not our first Whirlpool appliance and definitely last one. All their products don't work well and need being fixed. In this fridge ice-maker never worked. Moreover our fresh foods got frozen.
It's good
blamell, 01/13/2013
Experience of using: Few months
Pros: Easy to use, Price, Holds temperatures well
Cons: Slow ice-maker
Everything depends on what you're looking for in your fridge. I'm happy with my purchase. Cooling is perfect, fruit and vegetables are preserved well in their drawers. Only ice-maker is slow so if you like ice too much, don't buy this fridge. For me it's fine and not expensive compared to other units in market.
Wow. Love it!
CBetsy, 01/07/2013
Experience of using: Few months
Pros: Large capacity, Quiet, Stylish
Cons: Icemaker produces ice slowly
Freezer holds a lot of goods, even more than we expected. Refrigerator is well-organized and it is very roomy. Besides it is rather energy efficient.
Awesome fridge!
Karen, 11/22/2012
Experience of using: 1 year or more
Pros: High quality, Well arranged, Great look
We have replaced our old side-by-side with it and we are impressed! Tons of storage space, adjustable shelves and I am really in love with middle drawer. I can access any product in the fridge easily and quickly.
Great fridge
Ecgrice, 10/18/2012
Experience of using: About 6 months
Pros: Convenient features, Attractive design, Spacious, Useful user manual
I've always respected Whirlpool brand and this is my first unit purchased from it. There is much storage space and all sections can be accessed easily. It's also user-friendly for kids who can reach their favorite products easily. Freezer is also good. You can allocate everything you want inside due to adjustable shelves. I like water measurement feature. If you read manual well you can use this unit safely at the same time applying all its convenient functions.
General Features

Freestanding

French Door

Full Size

Grey

25 cu. ft.

18.4 cu. ft.

6.6 cu. ft.

Dispenser

External

Door

Smooth

Shelves

6

4

1

Control

Digital Temperature Control

Energy

120 V

15 A

Other Features

Frost-Free

Approved for Commercial Use

Standards/Ratings

Tier I

Dimensions

35.63 in.

70.13 in.

35.63 in.

Miscellaneous

883049251967
Add Review