Samsung

RF4289HARS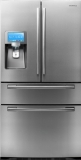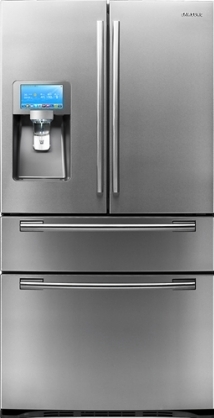 Reviews
Good fridge, bad service
Skittles Craddock, 01/10/2013
Experience of using: 1 year or more
Pros: Attractive design, Good illumination, Convenient features
Cons: Noisy, Limited storage possibilities
When I bought this fridge I noticed that temperatures on display and inside refrigerator don't match. I tried to get useful respond from Samsung, but I didn't get any. Their staff can't give you any normal answer to your questions. Finally I unplugged the unit and after that it started to work well. Compared to my old unit I'm not comfortable with arrangement of storage space, though it's quite Spacious. Freezer operates great, even better than we want it to work. Water in dispenser is little bit warm during first 3 seconds but after that becomes cool. For long time there water had smell of new fridge, but luckily it went after one month of usage.
Very good fridge
Aford, 12/31/2012
Experience of using: 1 year or more
Pros: Convenient features, Spacious, Durable
I've owned this unit for more than two years. It still works well and even better. I changed water filter and the taste changed. Now it seems tastier. At first I had problem with temperatures, but after rebooting it works fine. But I noticed that when you add new products temperature changes and needs time to reach to set level. Don't hesitate to buy this fridge, it's really good.
Amazing fridge
saleemmahe, 11/03/2012
Experience of using: About 6 months
Pros: Good illumination, Quiet, Convenient features
It's a great unit. I like bright interior light, convenient shelves. Internet connection is great and it is compatible with many programs. It's a very innovative and quality unit. I'd prefer ice-maker to be located in freezer because dispenser steals much space.
Beautiful refrigerator.
Howard, 11/01/2012
Experience of using: Few months
Pros: Powerful freezer, Good icemaker, Various apps
Cons: Water and beer bottles don't fit door shelves
The refrigerator compartment is well lit with LED lighting, but the location of door shelves is not really convenient. I had to get used to it. Water dispenser is a great pleasure. It works perfectly and it cools water in seconds.
Amazing fridge with advanced features!
SY72, 09/26/2012
Experience of using: 1 year or more
Pros: Flex zones, Bright display, Versatile shelves, Roomy
Cons: Pricey
Great refrigerator! I like its flex zones and large interior, so I can do shopping more rarely.
General Features

Freestanding

French Door

Full Size

28 cu. ft.

20.3 cu. ft.

7.7 cu. ft.

Grey

Dispenser

Door

Stainless Steel

Smooth

Shelves

Humidity Controlled Crispers

2

6

2

Control

Digital Temperature Control

Energy

15 A

Other Features

Automatic

Standards/Ratings

Tier I

Dimensions

35.75 in.

69.875 in.

36.25 in.

33.75 in.

Miscellaneous

036725560529
Add Review