Samsung

RF4287HARS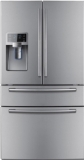 Bright display

Easy access

Customizable shelves

Convenient features
Hard to keep clean

Poor quality ice-maker
$59

Product Details:
Freestanding — French Door — Full Size — Stainless Steel — Total Capacity: 28 cu. ft. — Energy Star — (W) 35.75 x (H) 69.88 x (D) 36.25 in.
Reviews
Overall good impression
Fergus_3974, 11/28/2012
Experience of using: Few months
Pros: Convenient features, Good illumination, Holds temperature well, Spacious.
Cons: Noisy.
There are not many drawbacks in this model. On one hand, it's quiet and you can't hear it unless you go out of kitchen. You can hear noise of compressor in other rooms. I think a unit of this class and value should be tested better and shouldn't have such characteristics. I like ice and water dispenser. It makes ice fast and water is cool. There is much room and you can locate much food inside, but because of lower pull-out drawer you can't store tall bottles in door bins. Though the system of this drawer is convenient. Illumination is great. This fridge has many advantages and I would recommend it to my friends.
Very big fridge
askmark, 11/22/2012
Experience of using: Few months
Pros: Easy access, Easy to use, Easy-to-change water filter, Good illumination, Spacious.
I like everything in this fridge. It's very spacious and the light inside is amazing, best that I've seen till now. It's easy to find any product. Dispenser is beloved by all my family, but ice-maker is rather noisy when it drops ice into box. It's easy to change filter and it's nice feeling to have clean fresh cool water 24 hours.
Very good
William_JD, 11/12/2012
Experience of using: Less than a month
Pros: Convenient features, Energy efficient, Quiet, Spacious.
It's a very nice French door model. There is much storage place inside and on doors. It operates quietly and even ice-maker doesn't make noise. It works fast and produces much ice. It's a good purchase and not very expensive.
Very disappointed
We_Miller, 11/06/2012
Experience of using: Few months
Cons: Leaks, Poor quality, Unreliable, Water/ice dispenser issue.
Probably we were unlucky with this fridge, but we had problems from the very beginning. We noticed water leakage and the tray gets full very fast. We called repairman several times, but there is no positive result. He said it would always be like this due to construction of this unit. Ice function in dispenser doesn't work any more and if you press for ice water will come out. I'd not recommend this fridge to anybody.
General Features

Freestanding

French Door

Full Size

Stainless Steel

28 cu. ft.

16.3 cu. ft.

7.7 cu. ft.

Dispenser

External

Door

Smooth

Shelves

Humidity Controlled Crispers

2

5

6

Control

Digital Temperature Control

Energy

115 V

10 A

Other Features

Automatic

Approved for Commercial Use

Standards/Ratings

Tier I

Dimensions

35.75 in.

69.875 in.

36.25 in.

33.75 in.

Miscellaneous

36725569713
Add Review