Samsung

RF267AERS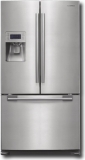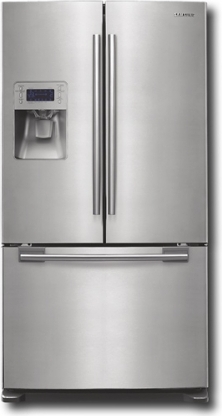 Other refrigerators that satisfy your requirements
From

$2761

—

Freestanding

—

French Door

—

27.8 cu. ft.

—

Stainless Steel

—

36 in.

—

Energy Star
Often Compare:
Reviews
It's nice!
janson79, 12/28/2012
Experience of using: About 6 months
Pros: Easy to use, Good value for money.
Since we bought this fridge we didn't get disappointed with it. It operates well. Ice-maker seemed to be little bit noisy but we got used fast. It's not only efficient but also preserves food perfectly. Because all products are exactly in front of you, you don't have chance to forget what you have in drawers and they will not get spoiled. Cleaning is a more significant issue as you can see all fingerprints on it and, as we have baby, we have too much of them. But as long as it looks modern and stylish we are ready to clean it every day. Just choose proper wiper. I'm advising to buy this product with warranty to be on the safe side if anything happens.
Problem with ice-maker
samina, 12/21/2012
Experience of using: About 6 months
Cons: Expensive repair, Poor quality, Poor quality ice-maker, Unreliable.
Before buying this unit we went through many reviews and ignored negative comments about ice-maker, which was our mistake. It stopped operating very fast and repairing it is expensive. So we didn't fix it. I'm not advising to buy Samsung fridge with dispenser because you will experience same problem.
Samsung is great
Cornutt, 12/19/2012
Experience of using: Few months
Pros: Easy access, Spacious.
I purchased this Samsung fridge instead of my old side-by-side one. It is much better in regards to capacity. All products are at eye level and there's so much space. Freezer is also great. Water and ice dispenser are useful and I bought filters in advance because they are quite costly. Appearance is amazing and I absolutely love it.
Bad warranty
SplitFire, 10/26/2012
Experience of using: 1 year or more
Cons: Poor quality.
You can buy this fridge if you don't care about quality at all. I bought this unit with four years warranty and now after 3 years of operation I came across dispenser problem. Company did provide parts but price which I paid for their labor service was high and why did I have to pay?? From now on I will not buy Samsung products any more. That's my terrible experience.
General Features

Freestanding

French Door

Full Size

Stainless Steel

26 cu. ft.

17.4 cu. ft.

8.1 cu. ft.

Dispenser

External

Door

Smooth

Shelves

Humidity Controlled Crispers

2

5

5

2

Control

Digital Temperature Control

Technical Details

Stainless Steel

Energy

115 V

10 A

Other Features

Automatic

Approved for Commercial Use

Standards/Ratings

Tier II

Dimensions

35.75 in.

69.75 in.

31.75 in.

31.75 in.

Miscellaneous

36725514881
Add Review