Samsung

RF266AEWP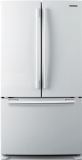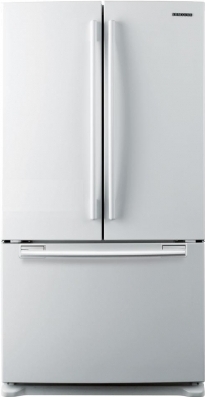 Other refrigerators that satisfy your requirements
From

$1924

—

Freestanding

—

French Door

—

27.8 cu. ft.

—

White

—

35.625 in.

—

33.125 in.

—

Undercounter

—

Energy Star
Often Compare:
Reviews
Great unit
Pawlicks, 01/19/2013
Experience of using: 1 year or more
Pros: Attractive design, Durable, Good illumination, Quiet, Spacious.
We've had such unit before and it still operates well, but bought this model with new LED illumination that looks amazing. As we have Samsung experience we can advise this fridge as it is durable and has a lot of room to locate all necessary products. We'd like to have more space in door bins, but that's the issue of all French door units and not only this model.
So many problems
Kiwi-19765, 11/13/2012
Experience of using: About 6 months
Cons: Poor quality, Unreliable.
When I bought this fridge it seemed good but only for one month. After that top part of the unit stopped cooling. We couldn't get it fixed and simply got it replaced by company. But after some time we came across same problem. I unplugged and plugged the fridge and it was fine again. I don't know how to fix the problem if it happens again, but now I'm dreaming to buy new fridge and to get rid of this one.
Don't buy Samsung
ellaLouis, 10/21/2012
Experience of using: About 6 months
Cons: Noisy ice-maker, Poor quality, Poor quality ice-maker, Unreliable.
You can try this unit, but to be on the safe side don't do that. After 4 months of usage ice-maker got broken. Even before that time it was slow and noisy. We had it fixed and found out ice under fruit and vegetables drawers. Defrosting and repairs couldn't solve the problem. It repeats all the time, so what I would do now is buy a new fridge of other brand.
Best fridge so far!
Oxnardd, 10/13/2012
Experience of using: Few months
Pros: Everything
Cons: Doors are not self-closing
I fall in love with this fridge every time I open the doors. Well lit, roomy, everything at the eye level and easily accessible.The control panel is easy to use and the frig maintains the temperature well.
General Features

Freestanding

French Door

Full Size

White

25.8 cu. ft.

17.7 cu. ft.

8.1 cu. ft.

Dispenser

Door

Smooth

Shelves

Humidity Controlled Crispers

2

5

3

1

Control

Digital Temperature Control

Energy

120 V

10 A

Other Features

Automatic

Approved for Commercial Use

Standards/Ratings

Tier I

Dimensions

35.75 in.

69.875 in.

35.625 in.

308 lbs

Miscellaneous

36725514959
Add Review