Samsung

RF197ACRS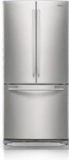 Other refrigerators that satisfy your requirements
From

$1352

—

Freestanding

—

French Door

—

19.5 cu. ft.

—

White

—

29.5 in.

—

34.625 in.

—

Energy Star
Often Compare:
Reviews
Too much noise
Lemon_Ade, 01/02/2013
Experience of using: Few months
Pros: Attractive design, Convenient features.
Cons: Noisy.
After a while that I'm using this model, I started missing my old fridge. This one makes too much noise. Probably you can imagine how much it's noisy if sometimes I wake up in the night. Awful! I think fridge of this class should have better operation system and should work quietly.
Good fridge
starry, 11/15/2012
Experience of using: About 6 months
Pros: Spacious.
Cons: Limited storage possibilities, Water/ice dispenser issue.
Good fridge but bad freezer. After some time ice dispenser got broken and doesn't work now. Freezer doesn't have much storage space, so we are using additional small freezer to keep our products. Fridge is convenient and we like it.
Strange design
Trisha0371, 11/14/2012
Experience of using: About 6 months
Pros: Customizable shelves, Good illumination, Holds temperature well, Spacious.
This is not my first French door fridge and there are some advantages and drawbacks that I found in this Samsung model. Yes, it's spacious and has nice illumination. Generally looks fine. But some things are confusing me. For example I can't get used for drawers that have to be pulled out from down and not from up like in 99% of fridges. If I want to open freezer, I have previously to open both top doors, otherwise it doesn't move out. That seems strange and probably there is a mistake in design or construction. The rest about this unit is OK. It cools and preserves products well. You can adjust shelves as you like. I think it's pretty good if you don't pay attention to above mentioned issues.
Very good fridge
barber, 10/22/2012
Experience of using: Few months
Pros: Attractive design, Customizable shelves, Energy efficient.
I like this unit. It works well and is very suitable for my small kitchen. This device looks nice and has enough room inside to accommodate all types of food. Adjustable shelves give more opportunities of locating tall items. It doesn't need much energy and my electricity bill was a pleasant surprise for me. If you are looking for a French door unit, this one can be your right choice. Its price matches with functions and it operates well.
General Features

Freestanding

French Door

Full Size

Stainless Steel

17.8 cu. ft.

12.1 cu. ft.

5.7 cu. ft.

Dispenser

Door

Smooth

Shelves

Humidity Controlled Crispers

2

3

5

Control

Digital Temperature Control

Technical Details

Stainless Steel

Energy

120 V

15 A

Other Features

Automatic

Approved for Commercial Use

Standards/Ratings

Tier I

Dimensions

32.25 in.

69.75 in.

30.5 in.

28.5 in.

235 lbs

Miscellaneous

36725568273
Add Review