LG

LMX28988ST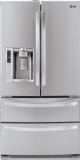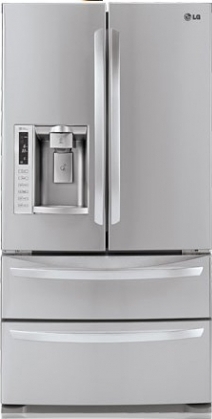 Other refrigerators that satisfy your requirements
From

$-1

—

Freestanding

—

French Door

—

24.9 cu. ft.

—

White

—

32.718 in.

—

Energy Star
Often Compare:
Reviews
I would like to return it
Linda J, 10/10/2012
Experience of using: Few months
Cons: Hard to keep clean, Limited storage possibilities, Slow ice-maker.
We are a big family and this fridge which seems spacious isn't really like that. You can put all your products on each other and then probably you'll be happy. Door bins capacity doesn't correspond to description. It's a stainless steel unit, which looks good but is very difficult to clean. Ice is never enough for us. It works slowly and we have to make ice in freezer as well.
Perfect
Alliee20_12, 10/04/2012
Experience of using: Few months
Pros: Attractive design, Good illumination, Quiet, Spacious.
This fridge is amazing. All our friends like its appearance very much. It's so spacious and shelves are convenient. Light inside is great and you can see everything. Moreover it works very quietly. We are happy with this purchase!
Teriffic
justinIn, 09/25/2012
Experience of using: About 6 months
Pros: Convenient features, Good illumination, Spacious, Useful user manual.
I want to say that when you purchase anything you should read manual first and it will give you proper explanations and answer your questions. You will know how unit works and not how you want it to work. So I'm totally happy with my LG fridge. It has many advantages, like user-friendly temperature controls, convenient drawers for different types of products, adjustable shelves. I like illumination inside. I made plan for myself how to arrange products in it, because there is so much space. Ice-maker is great and produces much ice. Two pull out drawers for freezer are also nice and I like how this system works. It's a good purchase.
Bad quality
matt-invest, 09/24/2012
Experience of using: 1 year or more
Cons: Poor customer support, Poor quality.
I bought this fridge more than one year ago and now I started having problems with it. First water dispenser started to leak and it annoys me. Also fruit drawer got broken. I don't think this is a pattern of good quality. Moreover LG doesn't feel like to fix any of these problems. So I'd never buy their product again.
General Features

Freestanding

French Door

Full Size

Stainless Steel

27.5 cu. ft.

18.8 cu. ft.

8.7 cu. ft.

Stainless Look

Dispenser

External

Door

Smooth

Shelves

Humidity Controlled Crispers

2

4

6

Control

Digital Temperature Control

Technical Details

Stainless Steel

Energy

15 Or 20 A

Other Features

Automatic

Approved for Commercial Use

Standards/Ratings

Tier I

Dimensions

35.75 in.

69.75 in.

35.375 in.

32.875 in.

47.625 in.

Miscellaneous

48231783170
Add Review