LG

LFX31925ST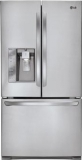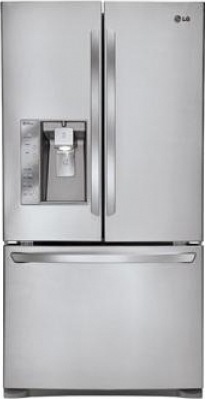 Easy access

Spacious

Good illumination

Attractive design
$32

Product Details:
Freestanding — French Door — Full Size — Stainless Steel — Total Capacity: 30.7 cu. ft. — Energy Star — (W) 35.75 x (H) 36.25 x (D) 70.25 in.
Reviews
Works well
Conware, 01/20/2013
Experience of using: About 6 months
Pros: Attractive design, Easy to use, Convenient features
Cons: Limited storage possibilities
I like everything in this unit and I can say that it's rather Spacious. I can accommodate tall bottles in door bins, but I'm upset with lack of space for tall items in refrigerator section. Ice-maker is amazing and I like ice bucket. In many other fridges ice jumps out because buckets are small. Here it's very convenient.
Nice product
Skroschal, 12/25/2012
Experience of using: Few months
Pros: Attractive design, Easy access, Convenient features, Spacious
Cons: Hard to clean
Overall this is a very nice and not very expensive model. It's stylish and user-friendly. The only issue is that my wife gets tired from cleaning because you can see fingerprints all the time. No more bad comments, it works perfectly.
Very Spacious
Yoli, 12/11/2012
Experience of using: Few months
Pros: Attractive design, Easy to use, Spacious
There is so much storage space that we can hardly fill it. All types of products, wide and tall come in its shelves, drawers and door bins. Very nice unit, we don't have any complaints.
Suits large families
rick81, 11/16/2012
Experience of using: Less than a month
Pros: Design, Easy-to-use, Wise interior arrangement
Cons: Icemaker doesn't provide enough ice
We purchased this fridge last month and we like it. Roomy interior, convenient design, so we go shopping more rarely. It is well lit inside, so you can see all the products easily.
Everything perfect
Okat, 10/24/2012
Experience of using: 1 year or more
Pros: Reliable, Easy access, Spacious
This fridge has many positive features. Air filtration system is very good, food is well preserved. I would prefer to see actual and not set temperature on display but as long as all products are safe and fresh I'm sure it's OK. Water filter can be changed easily. I'd like ice box to be bigger, but one which is installed is also fine. It's very roomy and you have to consume to much to fill it 100%.
General Features

Freestanding

French Door

Full Size

Stainless Steel

30.7 cu. ft.

Gray

Dispenser

External

Door

Shelves

4

Control

Energy

120 V

15 Or 20 A

Other Features

Automatic

Approved for Commercial Use

Dimensions

35.75 in.

36.25 in.

70.25 in.

Miscellaneous

48231783859
Add Review