LG

LFX25978ST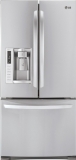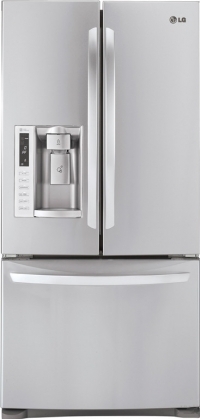 Other refrigerators that satisfy your requirements
From

$2367

—

Freestanding

—

French Door

—

22.6 cu. ft.

—

Black

—

36 in.

—

Energy Star
Often Compare:
Reviews
Great unit
Dupree, 12/18/2012
Experience of using: Few months
Pros: Customizable shelves, Good illumination, Quiet.
It's been not long time since I bought this fridge, but I like it very much. It is very quiet and I can't hear if it's on or off. It's spacious and is equipped with perfect illumination, which provide good products visibility. Adjustable shelves are also convenient. I highly recommend this device. My only remark is that water flow in dispenser is little bit slow.
Filter problem
D_Vice, 12/16/2012
Experience of using: Few months
Cons: Poor quality.
Probably there are advantages in this model but troubles that I came across in last couple of months removed all of them from my memory. It's not even half a year since I've bought this unit but I had to change water filter several times already. And all of them last maximum two days. Finally water reached to ice motor and it doesn't work at all. I contacted specialists who said that they had seen such troubles with this LG fridge before, but unfortunately nothing can be done. Should such an expensive unit last one month only? I think same spacious fridge can be found in other brands and even if they will be more expensive at least they will work.
Very good fridge
Parkins3, 11/29/2012
Experience of using: About 6 months
Pros: Convenient features, Easy to use, Holds temperature well, Quiet, Space for tall items.
We are very happy with our purchase. This fridge doesn't only look good but has many nice features. Ice maker works great. Shelves can be moved and consequently allow storage of various products. Temperatures are held well and can be controlled. Fruit, vegetables and meat stay fresh for long time. It's also quiet and doesn't disturb anybody. After experience with our old unit, this fridge is amazing. It works well and if I had to buy a new one I would choose same model.
Not bad
bryantN, 10/07/2012
Experience of using: 1 year or more
Pros: Attractive design, Spacious.
Cons: Hard to keep clean, Slow ice-maker.
This fridge is not bad and I like that it's spacious and looks stylish. But it's difficult to clean and you can see all smudges and fingerprints on it. I was expecting vegetables to be stored better, but they spoil rather fast. Also ice-maker could be faster. But nevertheless it's a good unit and I'm quite satisfied with it.
General Features

Freestanding

French Door

Full Size

Black

24.9 cu. ft.

17 cu. ft.

7.9 cu. ft.

Black

Dispenser

External

Door

Smooth

Shelves

Humidity Controlled Crispers

2

4

6

Control

Digital Temperature Control

Technical Details

Energy

120 V

15 A

Other Features

Automatic

Approved for Commercial Use

Standards/Ratings

Not available

Dimensions

32.75 in.

69.875 in.

35.375 in.

32.875 in.

46.125 in.

Miscellaneous

48231783590
Add Review