LG

LFC25776ST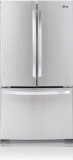 Other refrigerators that satisfy your requirements
From

$2367

—

Freestanding

—

French Door

—

22.6 cu. ft.

—

Black

—

36 in.

—

Energy Star
Often Compare:
Reviews
Good fridge
Leon37, 02/05/2013
Experience of using: About 6 months
Pros: Easy access, Easy to use, Good illumination, Quiet, Spacious.
I like everything in this fridge but before you buy it make sure that it will come in your door. That's my personal advice. It's very roomy and thanks to good illumination you can see everything at eye level. It's very user-friendly. There is one problem with ice-maker. It leaks and I don't know who's guilty for that. But I can live with it. The rest what I can say about this fridge is that it's very good and convenient. So don't hesitate to go for it and try to see it with your own eyes before purchasing. You will feel all advantages immediately.
Excellent
JoeKin, 12/08/2012
Experience of using: About 6 months
Pros: Customizable shelves, Good value for money, Spacious.
It surprises with its storage opportunities. Pull out shelves are very convenient and can be cleaned easily. Design of this fridge is very attractive. I didn't think to buy this unit but after I saw it I couldn't go for anything else and I'm happy with its operation.
I like it so much
Odeel, 11/04/2012
Experience of using: Few months
Pros: Attractive design, Convenient features, Quiet.
I'm very happy with this fridge. It operates quietly and, as most stainless steel products looks good. It can accommodate products of big size in fridge and freezer. It comes with good warranty conditions that ensure that it will work long time.
French door
Daphna, 10/20/2012
Experience of using: Few months
Pros: Customizable shelves, Spacious.
This unit is much larger than one which we had before. It has a lot of space inside and freezer is very convenient with its separations for different types of products. I like adjustable shelves. This feature allows locating all types of products. I wasn't sure if it's good idea to buy online, but everything went fine.
General Features

Freestanding

French Door

Full Size

Stainless Steel

25 cu. ft.

17.7 cu. ft.

7.3 cu. ft.

Dispenser

Door

Smooth

Shelves

Humidity Controlled Crispers

2

4

6

1

Control

Digital Temperature Control

Technical Details

Stainless Steel

Energy

120 V

15 A

Other Features

Automatic

Approved for Commercial Use

Standards/Ratings

Dimensions

35.75 in.

69.75 in.

34.25 in.

31.75 in.

46.5 in.

Miscellaneous

48231783583
Add Review