LG

LFC25765ST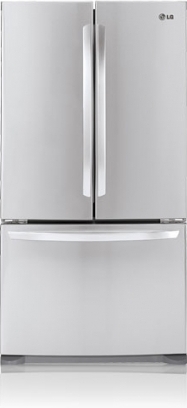 Reviews
Highly recommend this unit
Tommy, 01/07/2013
Experience of using: About 6 months
Pros: Convenient features, Attractive design, Quiet, Spacious
This fridge is very convenient and Spacious. We used to have side-by-side unit and after we transferred our products to this LG it was half empty. Its capacity is really great. It's not loud. Occasionally you can hear sound of ice dropping into the box.
Good and convenient
Tanya, 12/22/2012
Experience of using: 1 year or more
Pros: Attractive design, Spacious, Easy access
First of all, this unit works well now more than 1 year (some will break in first months). I didn't have any issues with temperature controls, cooling is perfect. This unit is good if you use fresh food more often than frozen. Both sections are very Spacious and drawers can be pulled out easily. I advised this fridge to my friends and didn't have any complaints after that. So you can go for it, if it matches your taste.
Excellent fridge
Vanilla, 11/08/2012
Experience of using: About 6 months
Pros: Attractive design, Reliable, Quiet
I've bought so many LG electronic appliances and this fridge is my last purchase for now for my new kitchen. It's another proof of high quality of company's products. This is first time for me to have fridge equipped with ice-maker and I love it. It makes little bit noise while fridge by itself is very quiet. Temperatures are held properly and I noticed that some products stay fresh longer time. I like exterior of this unit. It is stainless steel that looks modern and stylish. If you don't hug your fridge you will not suffer from finger prints too much. I hope that after 10 years I will be same pleased with its functions and operation.
Good LG experience
Sarma, 11/03/2012
Experience of using: Few months
Pros: Convenient features, Attractive design, Energy efficient
It is very good in regards of space and efficiency. Though doors are difficult to close and if you don't push hard you'll simply not close them. Fortunately alarm informs when they are kept open.
General Features

Freestanding

French Door

Full Size

Stainless Steel

24.9 cu. ft.

17 cu. ft.

7.9 cu. ft.

Gray

Dispenser

Door

Energy

120 V

15 Or 20 A

Other Features

Automatic

Approved for Commercial Use

Dimensions

32.718 in.

68.375 in.

32.875 in.

Miscellaneous

48231784085
Add Review