KitchenAid

KSC24C8EYY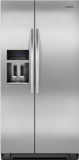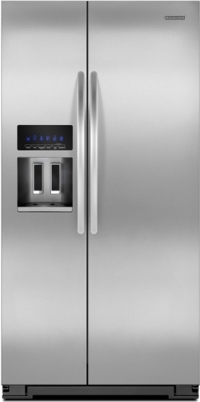 Other refrigerators that satisfy your requirements
From

$2591

—

Freestanding

—

Side-by-Side

—

22.6 cu. ft.

—

Stainless Steel

—

35.625 in.

—

29.5 in.

—

Undercounter

—

Energy Star
Often Compare:
Reviews
Not bad
PHhill, 01/14/2013
Experience of using: About 6 months
Pros: Easy to use, Holds temperature well.
Cons: Limited shelving options.
This fridge is generally not bad. Compared to my old Whirlpool it holds temperatures better and my fruit and vegetables don't get frozen. But I don't like shelves arrangement and I bought additional shelves and baskets. Now it's more convenient for me. This fridge is easy to use but another thing which I don't like is that water in water dispenser is rather warm, not cold. The rest is fine. I'm satisfied with this model.
Don't buy this fridge
wayne62, 01/12/2013
Experience of using: About 6 months
Cons: Poor quality.
We had two units of same model. After we bought first one we started experiencing problems with condensation on the wall between fridge and freezer. Water dispenser didn't operate properly. Doors didn't close well. After several repairs company replaced it with new unit. But it was all the same headache. So finally we got refund and chose other brand.
Perfect choice
BerneyVFG, 12/16/2012
Experience of using: 1 year or more
Pros: Convenient features, Energy efficient, Spacious.
I've done research before I bought this unit as I didn't want to spend money and to regret for it. And This time I did it well. I prefer side-by-side models rather than French door and this model makes me happy. It operates well and has two adjustable and two fixed shelves. There is plenty of space in door bins. Only its front is made of stainless steel. Water dispenser is a very convenient feature. I love it. But biggest advantage of this device is its cost of ownership. It is very energy efficient. I fell in love with this model and it was not a mistake.
Lack of shelves
ktia4936, 11/29/2012
Experience of using: Few months
Pros: Holds temperature well.
Cons: Limited shelving options, Noisy, Slow ice-maker.
Cooling provided by this model is good. Food is preserved in proper environment. I don't like the ice-maker that is slow and noisy. Water in dispenser isn't cold enough. I bought also additional door bins and a shelf for freezer. I'd not like to spend so much for additional parts and would rather buy other unit.
General Features

Freestanding

Side-by-Side

Full Size

Mono Stainless Steel

23.6 cu. ft.

13.5 cu. ft.

10.2 cu. ft.

Dispenser

External

Door

Smooth

Shelves

Humidity Controlled Crispers

2

4

4

Control

Digital Temperature Control

Energy

120 V

15 A

Other Features

Automatic

Approved for Commercial Use

Standards/Ratings

Dimensions

35.427 in.

71.625 in.

28.937 in.

45.562 in.

Miscellaneous

883049224831
Add Review