KitchenAid

KBFS25EWMS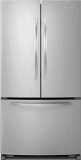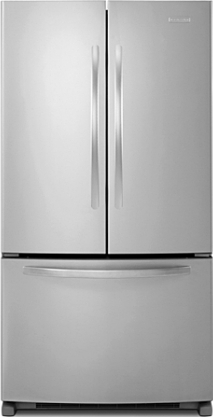 Other refrigerators that satisfy your requirements
From

$1840

—

Freestanding

—

French Door

—

25.5 cu. ft.

—

Stainless Steel

—

35.63 in.

—

35.25 in.

—

Undercounter

—

Energy Star
Often Compare:
Reviews
Another junk from KitchenAid.
Carlogian, 02/02/2013
Experience of using: Few months
This fridge is poorly designed and built. The worst thing is that the doors don't close without a push. Besides the freezer tends t shut down without any evident reason for that! It just shuts down and everything defrosts!
Cool fridge
ViVi, 11/14/2012
Experience of using: About 6 months
Pros: Attractive design, Easy access, Energy efficient, Quiet.
Cons: Limited storage possibilities.
Finally I got my kitchen ready and purchased this KitchenAid fridge. It operates well and doesn't make noise. It's quite costly, but I think it's worth the money. Good quality and service. The only thing which I don't like is dividers in freezer. I was fighting trying to adjust them and finally threw them out. Like this it's more convenient to locate products inside.
Very accessible, sleek and roomy
Daisy, 11/11/2012
Experience of using: Less than a month
Cons: Poorly designed doors
We own this refrigerator for over three years and I like that:
the location of the freezer is very convenient.
large drawers are very convenient, as we can hold cheese, lunch, etc. there.
I like water dispenser that is located inside, because so the refrigerator maintains its sleek look.
Same as it's described
GlenGlen, 10/17/2012
Experience of using: Less than a month
Pros: Attractive design, Convenient features, Easy access, Easy to use.
I'm a very demanding customer, but this fridge is really good and doesn't have many drawbacks that you can find in reviews. Don't believe it's noisy, because it's absolutely not. Water dispenser is good and user-friendly. My children like it too much and water never comes out on the floor. It can be moved easily due to castors. I didn't put top mark as I' using it for one month only but I'm sure it will operate well for long time. So don't hesitate to buy this fridge if you like it.
Not perfect but still good
MarTin74892, 10/09/2012
Experience of using: Few months
Pros: Attractive design, Quiet, Space for tall items.
Cons: Hard to clean
I would say this fridge is worth buying it. Functions, operation and appearance are great. I like inside dispenser. It's very useful. I have problem with cleaning freezer because I can't take drawer out and actually as I found out only staff of KitchenAid can clean it. It's not removable. That is odd.
General Features

Architect II

Freestanding

French Door

Full Size

Stainless Steel

24.8 cu. ft.

17.5 cu. ft.

7.3 cu. ft.

Dispenser

Internal

Door

Smooth

Shelves

Humidity Controlled Crispers

2

4

5

2

Control

Digital Temperature Control

Digital

Energy

120 V

15 A

Other Features

Automatic

Approved for Commercial Use

Standards/Ratings

Dimensions

35.625 in.

70.125 in.

35.5 in.

48.125 in.

Miscellaneous

883049190938
Add Review