KitchenAid

KBFS22EWMS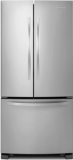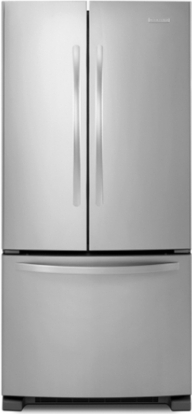 Other refrigerators that satisfy your requirements
From

$2870

—

Freestanding

—

French Door

—

23 cu. ft.

—

White

—

35.75 in.

—

Energy Star
Often Compare:
Reviews
Efficient and functional
G_flash, 01/21/2013
Experience of using: Few months
Pros: Attractive design, Easy to use, Energy efficient, Multiple temperature zones, Spacious.
This unit is like a dream. It looks very stylish and modern. It's very spacious though it's not very big. Dispenser is a valuable function and I like that I'm getting filtered water and ice 24 hours. Temperature controls are superb and it really controls temperature and not just gives options of cooling (1, 2, 3). Max Ice and Max Cool are nice features but I'm not using them often. Of course, as everything, this fridge has some drawbacks (deli drawer isn't easy to access, dispenser button could be in better location) but compared to many advantages you will not feel this small issue.
Rusted
annieJH, 01/11/2013
Experience of using: About 6 months
Pros: Spacious.
Cons: Poor quality.
First impression was great. We liked design and capacity. There's so much room inside and stainless steel looks amazing. But after 6 months it covered with rust spots. So don't trust when you hear that stainless steel is very durable!
Bad quality
inter_mail, 12/22/2012
Experience of using: 1 year or more
Cons: Poor quality, Unreliable.
We had French Door fridge of other brand and we thought this KitchenAid unit will be better, but it was big mistake. Door gaskets survived one year only and then had to be changed. Moreover we did it under our expenses in spite of one year warranty. I wouldn't buy such unit again.
Great fridge
DeanSpin, 11/10/2012
Experience of using: About 6 months
Pros: Attractive design, Spacious.
I paid much money for this fridge but it's good and is very suitable for my new kitchen interior. French doors are very convenient and there is so much space inside that my large trays can be easily accommodated. I was thinking about side-by-side unit but that one is not so spacious.
General Features

Architect II

Freestanding

French Door

Full Size

Stainless Steel

21.9 cu. ft.

15.6 cu. ft.

6.3 cu. ft.

Black

Dispenser

Internal

Door

Smooth

Shelves

Humidity Controlled Crispers

2

4

5

2

Control

Digital Temperature Control

Digital

Energy

120 V

15 A

Other Features

Automatic

Approved for Commercial Use

Standards/Ratings

Tier I

Dimensions

32.63 in.

70.13 in.

34.5 in.

Miscellaneous

883049190907
Add Review