GE

PFE29PSDSS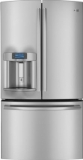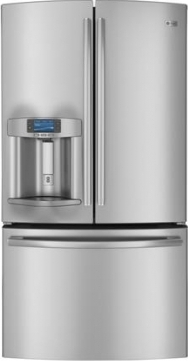 Reviews
Good features
Truefix, 01/07/2013
Experience of using: Few months
Pros: Spacious, Convenient features, Easy access
Cons: Noisy
I've been dreaming about French door fridge from long time. Finally with my new home I could afford it. My only remarks are noise produced by compressor. It's not much loud, but I've seen more quiet models. Ice-maker should come with bigger ice box. Other features considering room, accessibility and light are superb. It's a good quality fridge and is worth money that I paid for it.
Looks perfect
rosenberg, 12/03/2012
Experience of using: 1 year or more
Pros: Attractive design, Customizable shelves, Easy access
We trust GE and bought some other devices produced by this brand before. We never got disappointed with our purchases. This fridge is also Reliable and convenient. I'd like to see special section for dairy products which I didn't find. So I adjusted some shelves and door bins according to my vision of the interior and now I'm totally satisfied with it
American quality
Captdgl, 10/19/2012
Experience of using: About 6 months
Pros: Good illumination, Attractive design, Reliable, Energy efficient
This fridge is an example of modern style and wide functional opportunities. It doesn't consume much energy and is equipped with good filtration system. Air inside is always fresh and cool. LED light is the best what I saw in fridge. It doesn't hurt eyes and at the same time you can see every corner of the unit. I fell in love with its design immediately when I entered the shop. We spent more for this unit than we expected but we don't regret for that. You can't buy cheap thing with good quality. Except that there is much room in fridge and freezer. Pull out system of latter is very convenient. So don't hesitate to buy this fridge, it's amazing!
General Features

Stainless Steel

28.6 cu. ft.

9 cu. ft.

11.1 sq. ft.

Door

Hinges on Left & Right

Control

Electronic

Technical Details

Stainless Steel

Energy

120 V

15 A

60 Hz
Add Review