GE

GFSS2HCYSS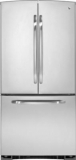 Reviews
Make sure you have warranty
raybojo, 01/30/2013
Experience of using: 1 year or more
Pros: Attractive design, Easy to use, Quiet
Cons: Unreliable
If you like this fridge and you decided to buy it, make sure you have warranty for it and the longer the better. We've already had several parts changed under company expenses. Otherwise we'd just throw it, because parts are costly and we are not going to pay half of its price for fixing.
Functional fridge
dharter6, 01/27/2013
Experience of using: Few months
Pros: Attractive design, Customizable shelves
We are happy with this unit. It works well and quietly. This fridge looks good though sides are not stainless steel and fits well in our kitchen. I like drawers and adjustable shelves. They are very convenient.
Disappointed with GE appliances
Ash, 01/17/2013
Experience of using: About 6 months
Cons: Poor quality
I'll never think to buy any of GE devices again. Doors of this fridge don't close well and alarm works with delay, so when it actually makes sound there is no need in it any more. Temperature on display and real temperature inside don't have anything in common. Moreover, it comes with old light system, which shocks me at this time of innovative technologies.
General Features

Freestanding

French Door

Full Size

Stainless Steel

22 cu. ft.

22.2 cu. ft.

6.7 cu. ft.

Dispenser

Door

Hinges on Left & Right

Control

Digital Temperature Control

Electronic

Energy

120 V

15 A

60 Hz

Other Features

Frost-Free

Approved for Commercial Use

Dimensions

32.75 in.

68.5 in.

33 in.

Miscellaneous

84691206026
Add Review