Frigidaire

FGUS2642LF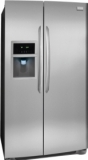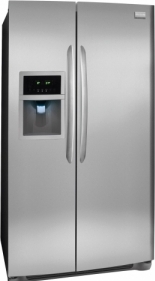 Reviews
Good unit but Noisy
Blh18, 11/08/2012
Experience of using: About 6 months
Pros: Attractive design, Energy efficient, Space for tall items
Cons: Noisy
Generally this appliance has all modern functions and is a user-friendly device. There is a lot of space and you can arrange different types of products in suitable shelves and drawers. I don't like noise produced by compressor and it really makes me upset. This unit is not cheap and should work quieter in this price.
Nice fridge with small side-by-side drawback
MokalaTae Basham, 10/03/2012
Experience of using: Few months
Pros: Attractive design, Customizable shelves, Quiet
Cons: Limited storage possibilities
In regards to its operation this unit is very good. It works smoothly, doesn't make noise and cools well. Shelves can be relocated and it gives more opportunities to put products as it's convenient for you. But as all side-by-side units I guess, it doesn't have enough place to put large pizza, so you can forget about this size. The layout of this fridge is pleasant and easy to clean with proper wipers. Ice-maker works fast, doesn't make noise either and produces sufficient amount of ice. I'm very happy with this product. Hope that it will also perform durable service.
Great fridge
Sdd, 09/27/2012
Experience of using: 1 year or more
Pros: Easy to use, Spacious, Attractive design
This fridge is very practical and easy to clean. I like three drawers which you can't often find in other models. It's very Spacious and I'd recommend it to big families. It operates without noise and doesn't require much electricity. So if you like cost-saving devices, this one is suitable for you.
General Features

Gallery

Freestanding

Standard

Stainless Steel

26 cu. ft.

9.50 cu. ft.

18.1 sq. ft.

Gray

Dispenser

Door

Stainless Steel

Grey

Shelves

Control

Electronic

Technical Details

Energy

120 V

15 Or 20 A

60 Hz

Standards/Ratings

Dimensions

36 in.

69.375 in.

33 in.

Miscellaneous

12505697784
Add Review