Frigidaire

FFHS2622MS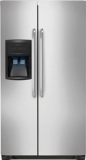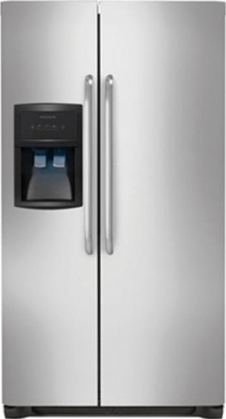 Other refrigerators that satisfy your requirements
From

$880

—

Freestanding

—

Side-by-Side

—

26 cu. ft.

—

Bisque

—

36 in.

—

31.75 in.

—

Undercounter

—

Energy Star
Often Compare:
Reviews
Perfect unit
88.Jemma, 12/19/2012
Experience of using: Few months
Pros: Attractive design, Easy to use, Quiet.
I absolutely like this fridge. It's very spacious and operates quietly. It was easy to install. Cleaning is also simple and doesn't need much effort. Ice dispenser makes a lot of ice very quickly though is little bit noisy.
Very convenient
F. Cornelia 0365, 11/11/2012
Experience of using: About 6 months
Pros: Attractive design, Easy access, Spacious.
This unit is great. There is enough storage place and you can place everything what you want. Especially I like its accessibility. I can make separation of products for kids and keep them at lower levels. At the same time I can lock dispenser and make sure they will not break it.
Didn't last long time
Howie-7247, 10/19/2012
Experience of using: 1 year or more
Cons: Poor quality, Unreliable.
We used it only 6 months when it stopped working first time. Frigidaire specialists didn't help us much, so after we solved the problem we decided to buy extended warranty. Finally after having it for 2 years we had to buy new fridge.
Great purchase
610Ella016, 10/02/2012
Experience of using: Few months
Pros: Attractive design, Easy-to-change water filter, Good value for money, Quiet.
This fridge is great. I like its design which matches my interior. It looks very stylish. All compartments and shelves can be accessed easily and filter can be changed fast. It's spacious and I like that bottles of different size can come into door bins. It doesn't make noise at all. Sometimes I doubt if it's on. I'm a demanding customer and I like efficient products, but this one is absolutely amazing. Water and ice dispenser work great! I would like it to come with tray for extra water. It's worth its price and I'd not hesitate to advise this fridge to my friends.
General Features

Freestanding

Side-by-Side

Full Size

Stainless Steel

26 cu. ft.

16.5 cu. ft.

9.5 cu. ft.

Color-Coordinated

Dispenser

External

Door

Smooth

Color-Coordinated

Shelves

Humidity Controlled Crispers

1

3

4

Control

Digital Temperature Control

Technical Details

Energy

120 V

15 A

60 Hz

Other Features

Automatic

Approved for Commercial Use

Standards/Ratings

Dimensions

36 in.

69.38 in.

31.75 in.

49.75 in.

Miscellaneous

12505607707
Add Review