LG

LRG3095ST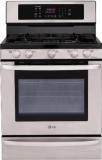 Other ranges that satisfy your requirements
From

$1418

—

Freestanding

—

Gas

—

5

—

Convection

—

29.94 inch

—

17000 btu

From

$1418

—

Freestanding

—

Gas

—

5

—

Convection

—

29.94 inch

—

17000 btu

From

$769

—

Freestanding

—

Gas

—

5

—

Convection

—

30 inch

—

17000 btu

From

$732

—

Freestanding

—

Gas

—

5

—

Convection

—

30 inch

—

17000 btu

From

$815

—

Freestanding

—

Gas

—

5

—

Convection

—

30 inch

—

17000 btu
Often Compare:
Reviews
Everything included!
TaxLady, 09/28/2012
Experience of using: Less than a month
Pros: Cooks well, Precise temperature control, Bakes fast
Our ancient stove died and it was replaced by this one. The range is amazing! Just Wow!
You set the necessary temperature, as it warms up, it displays the temperature and then beeps in order to let us know that it is ready.
Baking with convection is twice faster, so you should get used to that first. But overall we are very pleased with the investment!
Average oven.
Gelato, 09/10/2012
Experience of using: 1 year or more
Pros: Cooks well, Heats up quickly, High-powered burners
Cons: Expensive repair, Poor knobs quality
We got this stove over a year ago. It heats up quickly, has powerful burners and cooks really well. But the knobs are cheaply-made. We have already replaced two of them and they are not so cheap to buy!
General Features

Stainless Steel

Freestanding

5.4 cu. ft.

5.4 cu. ft.

5

Cycle Features

Controls

Knobs

Sensor Touch

Technical Details

Top

Sealed Burner

Electronic

Energy

120 V

10 A

Fuel Features

Gas

Other Features

Digital Temperature Display

Storage

2

Porcelain

Output Power

1

17000 BTU

1

12000 BTU

1

9100 BTU

1

8000 BTU

1

5000 BTU

Dimensions

29.94 inch

47.63 inch

26.91 inch

24.5 inch

19.6875 inch

19.5 inch

Miscellaneous

048231316460
Add Review