LG

LDG3016ST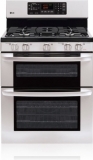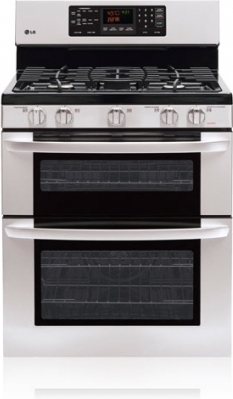 Other ranges that satisfy your requirements
From

$948

—

Freestanding

—

Gas

—

5

—

Convection

—

29.9 inch

—

17000 btu

From

$734

—

Freestanding

—

Gas

—

5

—

Convection

—

29.88 inch

—

17000 btu

From

$1286

—

Freestanding

—

Gas

—

5

—

Convection

—

30 inch

—

17000 btu

From

$1124

—

Freestanding

—

Gas

—

5

—

Convection

—

30 inch

—

17000 btu

From

$661

—

Freestanding

—

Gas

—

5

—

Convection

—

29.88 inch

—

17000 btu
Often Compare:
Reviews
Great stove!
Snip8367, 10/17/2012
Experience of using: Few months
Pros: Simple controls, Stylish look, Versatile performance, Functional, Price
We use this range for several months and I, and my wife, love it. The controls are simple and it looks very stylish in our kitchen. Having two convection ovens made cooking fast and easy. Besides we purchased it on a sale, so the price was very good and suited us well.
I am not sure about double oven...
Kylie64, 10/01/2012
Experience of using: Less than a month
Pros: Large surface area, Simple controls, Stylish look
The cooktop is great! Having five gas burners is very convenient! We used griddle for cooking pancakes and eggs and it is great. Still I have some doubts concerning the double oven. Is it really better than a single one? It is handy and looks well, but not more.
Nice quality for the money paid.
Tina_Cook, 09/01/2012
Experience of using: Few months
Pros: Cooks well, Easy to clean, Heats evenly, Versatile performance
I compared a lot of stoves and read many reviews before the purchase. I bought this LG products and I haven't found anything bad about it yet. Having two ovens in one unit is very convenient and functional. Now I can cook two different dishes at different temperatures simultaneously. The griddle is also good. I made pancakes and they turned out to be perfect!
To sum everything up, this range heats evenly, cooks fast and it is easy to clean. Just perfect for me.
General Features

Stainless Steel

Freestanding

3.9 cu. ft.

2.2 cu. ft.

5

Cycle Features

Controls

Knobs

Digital

Technical Details

Top

Sealed Burner

Electronic

Energy

120 V

15 A

Fuel Features

Gas

Other Features

Digital Temperature Display

Oven

3

Hot Surface Indicator Light

Output Power

1

17000 BTU

1

12000 BTU

1

9100 BTU

1

8000 BTU

1

5000 BTU

Dimensions

29.9 inch

35.9 inch

26.4 inch

24.5 inch

13.4 inch

19.2 inch

Miscellaneous

LG LDG3016ST
Add Review