GE

CGS990SETSS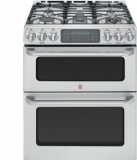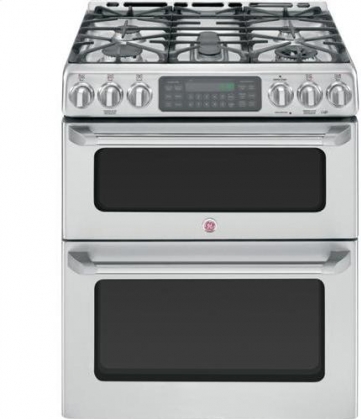 Other ranges that satisfy your requirements
From

$2236

—

Freestanding

—

Gas

—

5

—

Convection

—

30 inch

—

20000 btu

From

$1370

—

Freestanding

—

Gas

—

5

—

Convection

—

30 inch

—

19000 btu

From

$1778

—

Freestanding

—

Gas

—

5

—

Convection

—

30 inch

—

19000 btu

From

$1472

—

Freestanding

—

Gas

—

5

—

Convection

—

30 inch

—

19000 btu

From

$1371

—

Freestanding

—

Gas

—

5

—

Convection

—

30 inch

—

19000 btu
Often Compare:
Reviews
Heats unevenly.
LaurenLuLu, 10/31/2012
Experience of using: About 6 months
Pros: High-powered burners, Simple controls, Stylish look
Cons: Heats unevenly
I bought this range about 6 months ago and I do like it, but if I had to buy a range now, I would choose another one. The ovens don't heat evenly, what is a real problem for me. I adore baking, but have to use convection only. I am disappointed.
Great features!
Claire, 09/20/2012
Experience of using: Few months
Pros: Easy to clean, Precise temperature control, Simple controls, Stylish look, Versatile performance
We are very pleased with this GE double oven range. It is great! The oven is very functional. We usually heat small dishes in the upper one and the main oven is often used for baking bread, cakes and other tasty things. Stainless steel cooktop is extremely easy to clean. I can't wait for holidays to try everything out.
General Features

Stainless Steel

Freestanding

Cafe Series

6.7 cu. ft.

2.4 cu. ft.

4.3 cu. ft.

5

Cycle Features

Controls

Knobs

Sensor Touch

Technical Details

Top

Sealed Burner

Electronic

Energy

120 V

15 A

Fuel Features

Gas

Other Features

Digital Temperature Display

Oven

3

Hot Surface Indicator Light

4 Leveling Legs

Self-Clean

GE Cafe Stainless

Cast-Iron

Output Power

1

20000 BTU

1

17000 BTU

1

9100 BTU

1

8000 BTU

1

5000 BTU

Dimensions

30 inch

37.25 inch

29.25 inch

225.0 lbs

245.0 lbs

Warranty

Limited 1-year entire appliance

Limited 1-year entire appliance
Add Review