Frigidaire

FGGF3054MF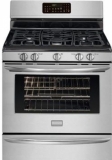 Other ranges that satisfy your requirements
From

$624

—

Freestanding

—

Gas

—

5

—

Convection

—

29.88 inch

—

17000 btu

From

$725

—

Freestanding

—

Gas

—

5

—

Convection

—

29.88 inch

—

17000 btu

From

$783

—

Freestanding

—

Gas

—

5

—

Convection

—

29.88 inch

—

17000 btu

From

$718

—

Freestanding

—

Gas

—

5

—

Convection

—

29.88 inch

—

17000 btu

From

$889

—

Freestanding

—

Gas

—

5

—

Convection

—

29.88 inch

—

17000 btu
Often Compare:
Reviews
Pleased
Peaceful, 11/12/2012
Experience of using: Few months
Pros: Cooks well, Large surface area, Responsive burners, Simple controls
Cons: Knobs get hot
I got this range about a month ago and I am happy so far. It is easy to use and functional. The only thing that should be mentioned is that the knobs get hot, when you use the oven. Well, think that it is an important note for families with kids. Still it is really good!
Very convenient features!
Aleida, 09/01/2012
Experience of using: About 6 months
Pros: Heats up quickly, Large capacity, Responsive burners, Simple controls, Versatile performance, Useful griddle
I like this range and the features that it offers. If you cook breakfast for several people, then a center removable griddle will turn out to be very handy. I often use the probe feature in the oven, because with it roasted dishes come out very tasty and well-cooked. The oven is huge, but it is preheated quickly.
The burners are very functional and you can adjust the necessary temperature fast. Very responsive. Continuous grates are good too. I can slide large pots forward and back not lifting them.
General Features

Stainless Steel

Freestanding

Gallery Series

5 cu. ft.

5 cu. ft.

5

Cycle Features

Even Broil

Controls

Knobs

Digital

Technical Details

Top

Sealed Burner

Electronic

Energy

120 V

15 A

Fuel Features

Gas

Other Features

Digital Temperature Display

Storage

3

Hot Surface Indicator Light

Power Supply Connection Location

Left Bottom Rear

Even Baking Technology

Output Power

1

17000 BTU

1

15000 BTU

1

10000 BTU

1

9500 BTU

1

5000 BTU

Dimensions

29.88 inch

47.5 inch

28.5 inch

Miscellaneous

12505506086
Add Review