Samsung

BD-D5700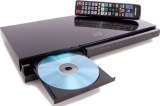 Other blu-ray & dvd players that satisfy your requirements
From

$215

—

Blu-Ray

—

Tabletop

—

Yes

—

Stereo

—

3D

—

Wi-Fi

—

DLNA

From

$281

—

Blu-Ray

—

Tabletop

—

Yes

—

Stereo

—

3D

—

Wi-Fi

—

DLNA

From

$324

—

Blu-Ray

—

Tabletop

—

Yes

—

Stereo

—

3D

—

Wi-Fi

—

DLNA

From

$143

—

Blu-Ray

—

Tabletop

—

Yes

—

Stereo

—

Wi-Fi

—

DLNA

From

$407

—

Blu-Ray

—

Tabletop

—

Yes

—

7.1 channel

—

3D

—

Wi-Fi

—

DLNA
Often Compare:
Reviews
My first Samsung experience and the last one!
Dean Shugart , 12/04/2012
Experience of using: About 6 months
Cons: Doesn't last, Poor customer support, Unreliable.
I owned this player about 6 months ago and I had nothing, but problems with it. The unit quit working on the third day of ownership and I had to make a hard reset. After that I didn't use it too often, maybe several times a month. Now it sticks at the loading process and I can do nothing! I tried to contact Samsung customer service and they turned out to be the worst ones on the planet! First they promised to call me within 24 hours. After four days of silence I contacted them again and they promised to contact me via e-mail. Silence... I will never buy Samsung again! Awful products and terrible service!
General Features

Tabletop

Tray

Connections

IEEE 802.3 (Ethernet), IEEE 802.11b (Wi-Fi), IEEE 802.3u (Fast Ethernet)

Audio System

Stereo

Virtual

DTS-HD Master Audio output, Dolby True HD digital output, Dolby Digital output, DTS digital output, Dolby Digital Plus output

Digital Video Standards

Profile 1.1 (Bonus View), Profile 2.0 (BD-Live)

Yes

Digital Audio Standards

Dolby Digital, Dolby TrueHD, Dolby Digital Plus

Internet services

Internet Streaming Services

Samsung Apps

Media

DVD+R, BD-ROM, BD-R, BD-RE, CD-R, DVD, CD, DVD+RW, DVD-R, DVD-RW, CD-RW

NTSC

Title, Chapter, A-B repeat

1/8, 1/4, 1/2

Remote Control

Remote Control Technology

Infrared

Technical Details

4 - 44000 Hz

110 dB

Total Harmonic Distortion

0.003 %

100 dB

1 x A/V cable

Energy

Power supply - Internal

120 V

Power Consumption Operational

19 W

Other Features

4x

AllShare, USB host function

036725608511

Dimensions

16.9 in

8.3 in

1.5 in

3.7 lbs

Warranty

1 year warranty

Service and Support Details

Limited warranty - Parts and labor - 1 year
Add Review