Samsung

DV210AEW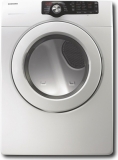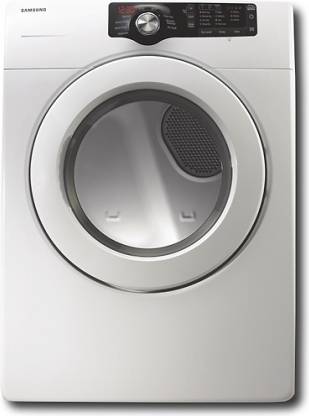 Other dryers that satisfy your requirements
From

$533

—

Front Load

—

Electric

—

7.7 cu. ft.

—

39.69 inch

—

White
Often Compare:
Reviews
Great disappointment!
rickburton, 10/31/2012
Experience of using: Few months
Pros: Quiet, Price
Cons: Poor quality, Poor design
I am really disappointed by this product. We used it for several months. If you use Sensor Dry, the clothes are left damp, even when you get them out, you can feel that. It seems that machine don't dry at all! But when you use "Time Dry" the clothes are dried well. The biggest problem is that if you don't choose "Wrinkle Reducer" the clothes become very very wrinkled! It is not the best choice for a laundry room.
Samsung dryer
itsmeann, 10/30/2012
Experience of using: Less than a month
Pros: Easy to use, Time saver, Functional, Effective
Cons: Lint filter, Not adjustable programs, Poor documentation
I bought this dryer about two weeks ago to replace my old 20-year-old Kenmore that finally died. It is quiet and efficient. Moisture sensors do their job really good! The programs are nice, but the problem is that you can't adjust the settings on the cycles with sensors. If I use the program for delicates, then my clothes are not dried thoroughly. I need to check that anyway...
The user manual is poor. You can hardly find anything there. Besides the lint filter seems to be weak. I am not sure whether it will serve for long or not.
One year user
ChloeLee, 10/10/2012
Experience of using: 1 year or more
Pros: Convenient features, Easy to use, Quiet, Time saver
We had already had a Samsung washer and that's why we decided to buy a dryer of the same brand name. During a year of heavy use (I have a baby) we haven't had any problems with washer or dryer. It does the job well. Quiet and effective.
Great price and quality!
jjjacob, 09/21/2012
Experience of using: 1 year or more
Pros: Durable, Price, Bright display
The dryer met my expectations completely. My clothes come out dry fast, what also creates a reasonable reduction in my electricity bills. The only problem that I ever had was the safety switch, that was not always depressed and that's why the machine shut off showing an error. This problem can be easily solved. If you are going to reverse the door, like I did, then you should make sure that it was reversed well and in a right way.
Good choice
wormINhole, 09/01/2012
Experience of using: About 6 months
Pros: Efficient, Functional, Wrinkle-free clothes
When we used it for the first time, my wife felt in love with the song that the dryer plays when the cycle is finished. Then we liked the sensors that work perfectly and the "Wrinkle Reducer" that does a really good job too.
General Features

Electric

White

7.3 cu. ft.

Front Load

Residential

Technical Details

Vented

Controls

Digital and Knobs

Front

Cycle Features

4

7

Energy

120/240 V

30 A

Other Features

Dimensions

38 inch

38 inch

30.38 inch

119 lbs

Miscellaneous

036725578241
Add Review