LG

LW1210ER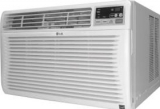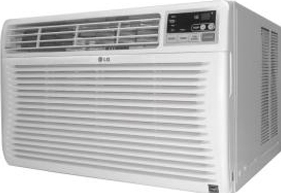 Reviews
Extremely good device
Hannah K., 12/18/2012
Experience of using: Few months
Pros: Cools the whole room, Energy efficient, Fast cooling, Good remote control, Quiet.
Number one feature that I really like in this AC is cool remote control with display and built-in thermostat. I like that it shows room temperature. I had issue with my old unit that it switched off and on without actually reaching to set temperature. Everything what I can desire from this device I can do from remote control and make all necessary settings. It works quietly and at the same time cools the room very fast even when it's hot outside. After first month of usage I realized that it's really efficient and doesn't consume so much energy as my old one. So, I'm totally happy with it and it's a device which I would advise to my friends.
12000 BTU AC
Junie JR, 12/01/2012
Experience of using: About 6 months
Pros: Fast cooling, Quiet.
Cons: Hard to install, Poor documentation.
This AC cools fast and it's enough to cool area of 550 sq. ft. in our case. It works quietly even at maximum speed and I think it's worth its price. I have negative comments regarding installation, which was difficult for me and manual couldn't help me. Instructions are poor and no pictures.
Great
Jeremy Watson, 10/24/2012
Experience of using: Few months
Pros: Fast cooling.
Cons: Hard to install, Poor documentation.
I purchased this unit for our bedroom. It's little bit noisy, but I got used fast and now don't notice it at all. What I like is that it cools our spacious room within 5 minutes. Manual doesn't give clear instructions regarding installation, so I got some headache while installing it.
Bad customer service
Eon, 09/25/2012
Experience of using: Few months
Pros: Accurate temperature controls, Energy efficient, Even air distribution.
I bought this unit and I can say it's not bad. Good powerful air flow and easy usage. There are many options to adjust temperature and fan. It doesn't take much energy and that's what I like in it. I had a problem with braces that support chassis, which don't connect. But after addressing company many times I didn't get any help and finally had to invent something by myself. It cools well, but operates loudly.
General Features

1

White

Energy

10.8 EER

Other Features

3

Technical Details

R-410A

Dimensions

23.63

22.17

15.0

82 lb

Warranty

5 year
Add Review