LG

LP1111WXR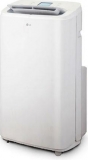 Fast cooling

Compact

Easy to use

Powerful airflow
$379

Product Details:
Portable — Cooling Capacity: 11000 BTU — Air Direction — Air Flow: 230 CFM — (W) 18.5 x (D) 15.44 x (H) 32.94
Reviews
Cool room.
890manni890, 01/07/2013
Experience of using: Less than a month
Pros: Compact, Cools the whole room, Easy to install, Easy to use, Powerful airflow.
I live in a rented apartment, so I had to find something compact and not requiring permanent installation. This unit fitted me well. Though the area is larger, than it is recommended for this model, it copes with the task really well. I can't provide any comments about its energy efficiency, because I haven't seen the electricity bills yet. In general I am pleased with the buy.
Overestimated.
faceWdodge, 01/04/2013
Experience of using: Less than a month
Cons: Hard to install, Noisy, Pricey.
This LG unit can cool and heat as well. It was somewhat difficult to install and I wonder how people with oddly-shaped windows in their houses install it! The noise level is rather high and this device is quiet only when it is switched off. Believe that the price is too high and you can easily find a better option and for better price.
Bought two and with short lifespan.
CharlieBH, 10/14/2012
Experience of using: 1 year or more
I had two choose two portable ACs for two small offices, about 10*14, and I bought this LG model. Well, I hoped that they will last longer, really. The first one quit working in about a year and two months, the second one died in a year and a half. My mistake is that I tried to fix them. I spent money on the service, parts and work in general and, summing everything up, I could easily buy brand new ones! I will never buy LG again.
General Features

1

White

230 CFM

Energy

9.2 EER

115 V

1200 W

11.0 A

Other Features

3.1

Auto

3

Technical Details

R-410A

Dimensions

18.5

15.44

32.94

66.2 lb

Warranty

1 Year

Miscellaneous

048231364379
Add Review