Frigidaire

FRA086AT7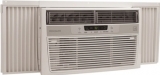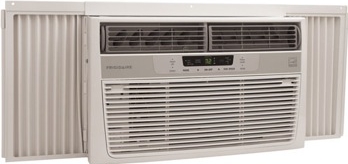 Reviews
Window unit.
CorbinGrooss, 01/06/2013
Experience of using: About 6 months
Pros: Durable, Easy to install, Energy efficient.
We were looking for a new air conditioner for our new patio premise. This model suited our window perfectly well. Taking into account that this unit works during the whole day, it uses electricity really wisely. So we are happy with the choice.
Decent choice.
static8468, 01/02/2013
Experience of using: Less than a month
When my old GE conditioner died, I started to look for a decent replacement. First of all I paid attention to the size, because it had to suit my window absolutely, then I looked at BTU. Choosing this Frigidaire model I made the right choice! It cools down the room extremely quickly and my old GE required more time. Air flow is powerful and fan speeds work great.
Sleep mode and remote control add convenience and they are really handy. However beeping it too loud! It is so noisy that can easily wake somebody up.
Unbearable noise!
Laura , 11/30/2012
Experience of using: Few months
Pros: Accurate temperature controls, Cools the whole room, Easy to install, Even air distribution.
Cons: Noisy.
This Frigidaire air conditioner is very attractive, lightweight and effective. The installation was fast and easy. The problem is the noise level, because it is terrible! I can't sleep in the room, when the unit is on. Yes, it cools down the room well, no complaints here, but wish I could exchange it for a quieter model...
Outstanding conditioner!
elaine5uy5, 10/20/2012
Experience of using: About 6 months
Pros: Cools the whole room, Easy to install, Easy to use, Energy efficient, Numerous features.
We are very happy with the buy! The unit is easy to install and use. Our living room is cooled down effectively and in no time! Besides we tried it during extremely hot days and it coped with the task great!
General Features

1

White

217 CFM

Commercial

Energy

10.8 EER

115 V

740 W

7.0 A

Other Features

1.7

8-Way

3

Technical Details

R-410A

60.9 dB-A

Antimicrobial

6 Ft.

Dimensions

18.5

15.5

12.4

46 lb

Warranty

1 Year

Miscellaneous

0-12505-27363-6
Add Review