DeLonghi

PAC A120E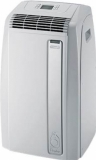 Cools the whole room

Easy to install

Accurate temperature controls

Good user manual
$10

Product Details:
Portable — Cooling Capacity: 12000 BTU — Air Direction — (W) 18 x (D) 15 x (H) 30
Reviews
Great Unit!!!, People Who Experience Leaks Arent Maintaining Their Unit Properly
Dwynne, 03/30/2012
Experience of using: 1 year or more
Pros: Cools extremely well
Cons: none
This is unit is great value, excellent cooling power. And to many of the people out there with leaking complaints, it is likely because they arent following the maintenance schedule in the manual to clean the filters. Dust and debris can build up in the drain tube from the upper tray to the lower causing the infamous leak if you dont keep your unit clean as suggested in the manual.
Great unit, no complaints.
DeLonghi PAC A120E
Mike Stuart , 08/04/2011
Experience of using: Less than a month
Pros: good quality, good price
Cons: not compliant Energy Star
I chose the Delonghi PAC A120E and I don't regret it. It makes my room very cold as I like. So I am very pleased with it. But it is not compliant Energy Star, so I want to see my electrical bill.
It cools great
sdonna, 06/24/2011
Experience of using: 1 year or more
Pros: cools very very well
Cons: none
I love my ac by DeLonghi! It works without any problems and cools my bedroom for the needed temperature in a short period of time. The unit can work for a long time so I can start it to cool when I come outside and find my room cool and comfortable when I come home. And it have such useful remote control. It is a great purchase for me!! I recommend it for everyone!
It leaks!!!
adamk , 05/14/2011
Experience of using: Few months
Pros: Cools as advertised
Cons: Leaks! It destroyed my carpet
This conditioner works well, keeps the room nicely cold. But it leaks bad. It started after few weeks of using. I came home and saw my carpet wet and spoiled because of tank overflow. I called to the custom service but they refused to replace my unit. And they don't want even to help me to solve this problem. So I' m very angry at the DeLonghi custom support for their apathy and at the DeLonghi engineers for such a stupid design of air conditioner think. This unit is not worth the money.
General Features

1

White

Energy

115 V

1500 W

8.2 A

Other Features

4

Technical Details

R-410A

Dimensions

18.0

15.0

30.0

70 lb

Warranty

1 Year

Miscellaneous

44387312059
Add Review