UniMac Washing Machines
1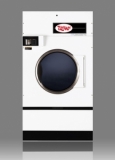 Not Available
Features:
Capacity: 49.7 cu. ft.
Usage: Commercial
(W) 53.13 x (H) 94 x (D) 68.88 in.
Learn More
Learn more about UniMac Washing Machines
Commercial and light-commercial laundry appliances are more resistant and heavy-duty, in comparison with residential ones, and they can efficiently wash a greater number of loads per day. There is a wide range of companies, which manufacture this type of products, but UniMac is one of the top leaders and best sellers in the present market.
Being a part of Alliance Laundry Systems, which is the leading supplier of high-quality products, the company focuses on innovative features, efficient operation and durable performance. Since its introduction, over 60 years ago, UniMac has earned a reputation of a real innovator in laundry industry. They have invented the first washer-extractor (that was capable to rinse and extract 60 – 90 pounds of clothes per hour), rapid jed-spray rinse technology and much more. The series of light commercial washers includes the models with top- and front-load design, 2.8 – 2.84 cu. ft. capacity and such options, as: several temperature settings, various wash cycles, 2-3 spin speeds and manual controls. The units with front-load design are Energy Star qualified, because they consume less water and energy per load.
In UniMac washers reviews the customers note that these appliances are easy-to-use, efficient and durable. Besides the company provides 1-year warranty on parts (for front-load models) and 3-year warranty of parts (for top-load models).