Danby Washing Machines
2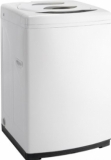 Not Available
Features:
Control Type: Sensor Touch
Type: Portable
Usage: Residential
Color: White
(W) 21.44 x (H) 33.88 x (D) 21.63 in.
Learn More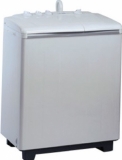 Not Available
Features:
Control Type: Electro-Mechanical
Maximum Spin Speed: 1600 rpm
Type: Portable
Capacity: 0.16 cu. ft.
Usage: Residential
Color: White
(W) 28.94 x (H) 36.25 x (D) 17.13 in.
Learn More
Learn more about Danby Washing Machines
If you live in a small apartment or house and you don't have enough space for a full-size washing machine, then you should definitely consider the purchase of compact product. This type of appliances is very popular among the customers, not just due to the size, but also owing to the cost-efficiency and convenience, which it can provide. Among a great variety of brand names, Danby stands out.
This American company is well-known as a supplier of efficient and affordable compact and apartment-sized household appliances. It focuses on innovation, quality and energy-efficiency, so its products' line will meet the requirements of even the most fastidious customers. In this review you will find all the necessary information about Danby washers and their unique features.
Compact washing machines are efficient space-savers and they are a perfect solution for small families or just for those people, who wish to save some additional square feet in their apartment or house. Dandy appliances are well-designed and they will definitely supplement your interior. All the models are equipped with castors for easy portability and they can be moved around from one room to another without any effort.
Danby washers are offered in top-load design and with 8.8 – 11 lbs capacity. The appliances include helpful and convenient options, like: multiple wash programs, electronic controls, several water level settings, lint filter, temperature settings and much more. The number of features depends on the selected model of the unit and this fact should be considered before the purchase.
The company specializes on the manufacture of white products and it provides 1-year warranty on parts and labor. So if you are going to buy a powerful, convenient, capacious and long-lasting laundering unit, you should definitely consider Danby washers' series.