Sanyo LCD TVs
1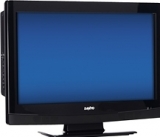 Not Available
Features:
HDTV
Aspect Ratio: 16:9
Maximum Resolution: 1366 x 768
Type: LCD
Screen Size: 26 inch
Vertical Resolution: 720p
Screen Refresh Rate: 60 Hz
Built-In Player: DVD
(W) 26.13 x (H) 19.63 x (D) 8.5 in.
Learn More
Learn more about Sanyo LCD TVs
Everybody knows, what LCD is. Yet productive thought of technological progress knows no boundaries, fact well proven by Sanyo. Sanyo LCD TV is pretty special: on one hand, it is a reliable device, that encompasses everything, you need from LCD, on the other hand, its price is not skyrocketing, this makes it so special and attractive.
Let's perform a little review on the basic features of Sanyo LCD TV. Everybody, who already has Sanyo at home can agree on one thing – the unit has a sharp picture and amazing sound. The high quality image can be explained by some impressive contrast ratio (4000:1) and display resolution (1920×1080 pixels). As for the sound, it is stereo, equipped with two speakers, 2×178 Watt each. There is nothing not to like about it. No matter whether you mount it on the wall, or put it on a stand, which is an included accessory in most TV sets, your own Sanyo would adjust to your interior. Owing to the 178 viewing angle, you can watch it from different positions, without compromising the quality of the picture. In most TV\Audio reviews there is an idea, that technical progress it impossible to keep up with. Sanyo says, it is only partially true. Its LCD TV is 3D ready, therefore whenever some more innovations come, you are not going to be left out, Sanyo facilitates your aspirations to keep pace with the progress. Plus it is well-designed and high-end, and you can be the judge of it once you get your own Sanyo LCD TV.