Tappan Ranges
1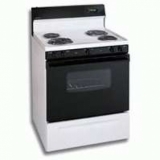 Not Available
Features:
Style: Freestanding
Fuel Type: Electric
Learn More
Learn more about Tappan Ranges
Tappan is one of the oldest American brand names that specializes on stoves manufacturing. It was founded in 1881 and produced cast-iron ranges. During the whole period of working it was known as leading manufacturer of top-quality products. Nowadays, Tappan is a part of the Electrolux Company, one of the biggest world corporations dealing with home appliances production.
Tappan ranges are supplemented with self-cleaning ovens that perfectly cope with all cooking tasks. Most units have large windows, so you are always able to look into an oven and find out when the meal is done. From 4 to 6 positions for oven racks let owners select the right level for each dish. Besides, most models are controlled by electronic elements that are easy to use.
One more feature that is pointed among Tappan range reviews as a useful thing is preheat indicator. Due to it you will be informed when the oven is ready for operation. The brand uses good-quality materials that are easy to handle. Four 9,000 BTU all-purpose burners are enough to prepare several dishes at the same time. The manufacturer provides 1 year warranty on parts and labor. Having a Tappan range in your kitchen you can be fully confident in its durability and more than one century reputation of a reliable brand.