NXR Ranges
1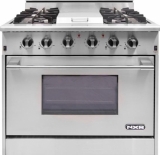 Not Available
Features:
Primary Oven Capacity: 5.2 cu. ft.
Cooktop: Sealed Burner
Style: Freestanding
Fuel Type: Gas
Burners: 5
Convection
Set 1 Output(Gas): 18500 BTU
(W) 36 x (H) 40 x (D) 29.38 in.
Learn More
Learn more about NXR Ranges
NXR brand name majors in stainless steel stoves development. It manufactures professional style gas ranges that have just high quality, excellent performance, and nothing extra. The brand allows customers choose the most appropriate model among 30", 36" ranges or 36" ranges with griddle.
NXR ranges consist of parts that come from America and Europe. Thus, they represent the best sides of each country: German top quality, Italian elegant design and the United States great performance. Owners who have big families will be satisfied with the units that are equipped with 6 burners and 5.2 cu. ft. ovens. All burners are controlled by mechanical elements that are easy to use. Convection system provides even baking and roasting, so you will have the possibility to enjoy delicious meals cooked in a short time. Using heavy-duty burners, gas valves, and ignitors made in Germany, the brand guarantees long operation of your kitchen unit. Possessing such device you are able to cook everything you wish without worry about spending money on repair.
The manufacturer makes you free of unnecessary features leaving only the most powerful options to reach the best cooking results. According to the range reviews, owners appreciate simple and efficient operation that NXR brand name provides. So take pleasure from combination of user-friendliness and excellent performance that are embodied in the NXR stoves.