Jenn-Air Ranges
1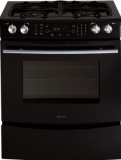 Not Available
Features:
Cooktop: Sealed Burner
Primary Oven Capacity: 4.5 cu. ft.
Style: Slide-In
Fuel Type: Dual Fuel
Burners: 4
Convection
Gas Type: Natural / Propane
Set 1 Output(Gas): 15000 BTU
(W) 30.75 x (H) 35.75 x (D) 26.19 in.
Learn More
Learn more about Jenn-Air Ranges
Nowadays, kitchen appliances become more popular than a few decades ago. Virtually all routine housework like cooking and cleaning can be performed faster and easier with such modern devices as convection stoves, microwaves, dishwashers, mixers, blenders, and many others. But the efficiency is not the only one feature that customers pay attention to. Kitchen is the place where people spend a lot of time, so kitchen units should be compact, comfortable, stylish, and multifunctional.
Jenn-Air takes the leading position in the shortlist of luxurious kitchen appliance manufacturers. This company was founded in 1947 by Louis J. Jenn and majored in industrial fans manufacturing and marketing. But later, in 1961 the first self-ventilated downdraft range model was invented by means of one of its fans integration to the range cooktop. After that, Jenn-Air Company supplemented its kitchen appliance model line with high quality and original look.
Being a technological leader in the production of superior-performance kitchen units and having a big number of patented technologies, this American brand name manufactures the best ranges with luxurious design and excellent feature packages. Jenn-Air range reviews include gas, electric, and dual fuel models that are presented in wide size range (from 30" to 48" in width). All units are available in Euro-style stainless, floating glass black, floating glass white, and oiled bronze colors. There are models with griddle and MultiMode Convection system.