Thermador Microwaves
2
Not Available
Features:
Type: Over-the-Range
Capacity: 2.1 cu. ft.
Wattage: 1200 Watts
Color: Stainless Steel
(H) 14 x (W) 23.88 x (D) 19.44 in.
Learn More
Pros:
Easy to install,
Simple controls,
Simple display,
Attractive design,
Powerful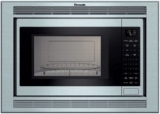 Not Available
Features:
Convection
Inverter
Type: Over-the-Range
Capacity: 1.5 cu. ft.
Wattage: 1400 Watts
Color: Stainless Steel
(H) 14.81 x (W) 23.88 x (D) 19.31 in.
Learn More
Learn more about Thermador Microwaves
Thermador has been supplying innovative and high-end solutions to the market for over 75 years. Their products series are well-designed, powerful and high-end. The company is fully-owned by Bosch and Siemens Home Appliance Group, which is the third largest producer of household appliances in the world.
It is a well-known brand name in cooking, cleaning and refrigerating spheres and they offer a wide line of products that includes: ranges, ventilation systems, rangetops, ovens, cooktops, microwaves, warming drawers, built-in coffee machines, refrigerators, dishwashers and much more.
In Thermador microwave review customers note that these appliances are very easy to install and operate. The ovens' series include convection and traditional models, which can be built-in or left freestanding, depending on your needs and preferences. They come with a large number of options, like: innovative inverter technology, several power levels, auto beverage reheat (it automatically determines the cooking level and the time), sensor cooking programs (they can check the humidity level and set the most suitable power level and time), quick defrost, timer, auto delay start mode, keep warm option, popcorn program and other functions, depending on the model of the unit.
Thermador microwave ovens can add style and elegance to any kitchen. They provide flexible performance, advanced opportunities and reliable performance. In addition the company provides 2-year limited warranty on parts and labor.