Whirlpool

GSC25C4EYY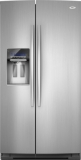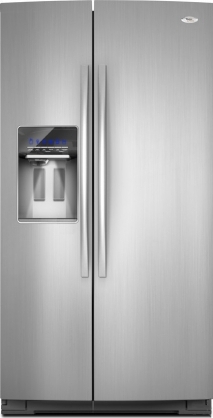 Other refrigerators that satisfy your requirements
From

$2268

—

Freestanding

—

Side-by-Side

—

25.6 cu. ft.

—

Stainless Steel

—

35.5 in.

—

33.25 in.

—

Undercounter

—

Energy Star
Often Compare:
Reviews
Counter-depth
paulwall, 02/03/2013
Experience of using: About 6 months
Pros: Attractive design, Holds temperature well, Spacious, Easy to use
It's my first counter-depth fridge and I regret that I didn't buy one many years ago. It looks amazing. I never thought this side-by-side has so much room. I like special shelf for bottles. Plastic drawers are great. I can now put all types of products separately and their smells don't mix with each other. I'm not a young man, but coped with instructions and settings fast. I like panel which looks nice in the dark. Water filter is in good location and is very easy to be replaced. Very good model, which I think is worth buying.
Almost perfect
asselmeier, 01/09/2013
Experience of using: Few months
Pros: Easy access, Easy to use, Spacious, Quiet
Cons: Design flaw
This Whirlpool fridge is really good and my remark doesn't concern its operation, but design. Wine rack is completely useless, as it takes space, which could be useful. Except wine bottles you can't put anything in it; and I'm sure nobody keeps so many wine bottles every day in his fridge.
Nice for kids
ernfshr, 11/29/2012
Experience of using: Less than a month
Pros: Attractive design, Easy to use, Convenient features, Sound level
It's a lovely fridge, very beautiful with nice features. Kids absolutely love water dispenser. I think this fridge is good quality according to number of times they could have broken it, but it survived. It's also quiet, which is nice because sometimes our friends stay for night in living room and our old fridge kept them awake half of the night.
You have to try it
bonnzzii, 11/20/2012
Experience of using: About 6 months
Pros: Quiet, Good illumination, Attractive design, Roomy
I read many negative comments about this fridge, but still bought it. I didn't regret even one second. It's a counter-depth model with much storage space. Operation is very quiet, except ice-maker when it drops ice. LED light is nice and provides good visibility. I advise everyone, if you like this model to buy it with warranty. I'm happy with it.
Awful noise
djonesmo, 11/03/2012
Experience of using: Few months
Cons: Noisy
I strongly don't recommend this unit. I bought it to replace my old Kenmore which was little bit noisy. I got this one, which is 20 times noisier and makes awful buzz sound that you can hear in next room.
General Features

Gold

Freestanding

Side-by-Side

Full Size

Stainless Steel

24.5 cu. ft.

14.5 cu. ft.

10 cu. ft.

Dispenser

External

Door

Smooth

Shelves

3

Control

Digital Temperature Control

Energy

120 V

15 A

Other Features

Automatic

Approved for Commercial Use

Standards/Ratings

Dimensions

35.427 in.

69.25 in.

30.812 in.

45.687 in.

Miscellaneous

883049224923
Add Review