Samsung

RSG309AARS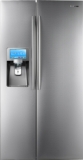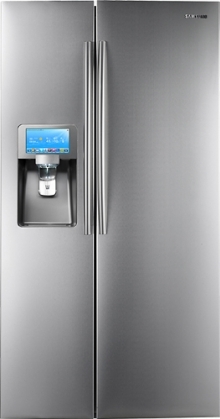 Reviews
Fabulous fridge
clairesre, 01/26/2013
Experience of using: About 6 months
Pros: Convenient features, Space for tall items, Spacious, Good illumination
Amazing fridge. I feel in love with it at first sight when I saw it on internet. When it was delivered to my home, it looked even better. It's extremely spacious and there is lot of space for tall items. Great digital screen with easy controls. Best fridge that I ever had.
Superb side-by-side fridge
Terrian, 01/17/2013
Experience of using: 1 year or more
Pros: Spacious, Attractive design, Convenient features
It's not my first Samsung fridge and I was satisfied with operation of all units that I had before. This new model is very modern and does all functions of fridge plus has some nice new features. I absolutely love internet connection that gives chance to read recipes, to see weather forecast and so on. It's very spacious and lets you to accommodate so many things. I don't like bending to freezer in French door devices, so I'm very happy with design of this side-by-side, where everything is at eye level and can be reached easily.
Wi-Fi
elisolis15, 11/02/2012
Experience of using: Few months
Pros: Convenient features, Quiet, Attractive design, Good illumination
Lovely fridge with Wi-Fi. It's great because you can read news, listen to music and leave notes on the digital screen for your family members. Good light is another advantage. I'd recommend this model.
Not so good as I expected
Ranica, 10/15/2012
Experience of using: Few months
Cons: Poor quality, Pricey, Limited storage opportunities
I'm disappointed with this fridge. I read so many positive reviews but actually it's not as good as it should be in this price. Digital screen gets stuck and I have to restart it again and again. The unit is so big that I hardly took it inside. The layout is full of fingerprints which I have to wipe out from morning till night. It seems spacious but when you start putting your things inside, the room seems inconvenient and actually there is not much storage space. Moreover, I'm not sure this fridge will last. I'd not buy it again.
Love it
Envious, 10/04/2012
Experience of using: Less than a month
Pros: Attractive design, Holds temperature well, Solid construction, Easy access
When we bought it we didn't think it'd not come in our door, so we had to remove doors and then to fix them back. This fridge, shelves and drawers are made of strong materials and you feel safe when you put heavy things inside. All products stay fresh longer and don't have any odors.
Best side-by-side of the year
Skeezybaby, 09/25/2012
Experience of using: About 6 months
Pros: Spacious, Convenient features, Easy access, Easy to use, Holds temperature well
I found out this was best side-by-side model of last year and I went to find out what's so good in it. Really in this price it has many good functions and attractive design. So without hesitation I purchased it. It took a while to make proper settings for Wi-Fi, but now it works well. I'm totally happy with it, as it's spacious and produces enough ice. It doesn't make noise and you can hardly hear that it works. The model looks great and digital panel is Easy to use. Interior LED light is great. So far it works well and I can give it only top mark.
General Features

Freestanding

Side-by-Side

Full Size

30 cu. ft.

18.1 cu. ft.

11.5 cu. ft.

Gray

Dispenser

External

Door

Stainless Steel

Smooth

Shelves

4

4

Control

Digital Temperature Control

Energy

120 V

15 A

Other Features

Automatic

Approved for Commercial Use

Standards/Ratings

Tier I

Dimensions

35.75 in.

69.5 in.

36.75 in.

Miscellaneous

36725560765
Add Review