Maytag

MFX2571XEM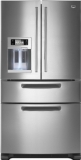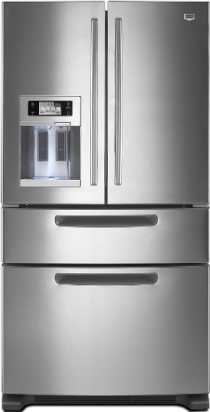 Reviews
Great fridge
alisamcd, 02/02/2013
Experience of using: Few months
Pros: Attractive design, Easy to use, Easy to clean, Good value for money, Quiet
It's my first stainless steel fridge and first French door as well. I like it so far. This type of finish is very easy to clean with water and soap. Interior parts are also easy to clean. French doors are user-friendly. I like its capacity and quiet work of compressor.
Good investment
Shearon Norwood, 12/06/2012
Experience of using: About 6 months
Pros: Attractive design, Convenient features, Spacious, Good illumination, Easy to change filter
It's a very unusual fridge that comes without vegetable crispers, without any dairy or meat bins, but this gives you more options of food storage. You will find this unit very spacious. Light is extremely bright. I'm happy that I can always find what I want, because some small things always got lost in my old fridge and then we had to throw them. Freezer is very convenient and also has nice capacity. Because you open each door and freezer section separately, you'll find it efficient. Dispenser works well and it's pleasant to know that water is filtered.
Huge
Dpistorio, 11/22/2012
Experience of using: 1 year or more
Pros: Convenient features, Easy access, Easy to use
Cons: Poor ice-maker
This fridge has very nice capacity and stores lots of products. There is enough space for tall items in door bins. I love measured water dispenser. It's very convenient. Water is fresh and cool at all times. Ice-maker is disappointing, because it accommodates little ice and then you have to wait quite long time to get another portion. Digital screen is cool. I strongly recommend this model.
It is roomy.
Roxanne, 11/18/2012
Experience of using: Few months
We loved the room, easy use and bottom freezer trays. Excellent designs. But to our disappointment we found out that stainless steel scratches very easily. Apart from this the door shelves are too narrow and the icemaker is worthless.
Price is only beginning of your expenses
texaspooh, 10/05/2012
Experience of using: 1 year or more
Pros: Attractive design, Capacious
Cons: Bad ice-maker, Price
Ice-maker in this fridge worked for one year and then stopped working. It was fixed, but still I'm disappointed with it because it makes very little ice. I bought extended warranty which is cheaper than to get it fixed under your expenses every time. Don't buy Maytag - that's my advice.
I am pleased
Dennywill, 10/04/2012
Experience of using: Less than a month
Pros: Quiet, Modern design, Lots of space inside
Cons: Sometimes it is hard to keep stainless steel as clean, as you want
After much research I chose this model and it turned out to be the right option. It is very quiet. All the drawers come out easily and we do like the middle drawer for fruits and veggies. I can see all the products at a glance, what is very convenient.
Nice deal
Wowrestin, 09/30/2012
Experience of using: About 6 months
Pros: Attractive design, Price, Convenient features, Easy to use, Holds temperature well
This fridge is amazing. It's so huge and is very roomy. Food stays safe and fresh. I strongly recommend it, but be aware that price on internet is at least 500$ lower than in store and I got mine with more than 1000$ discount.
General Features

Freestanding

French Door

Full Size

Stainless Steel

25 cu. ft.

18.4 cu. ft.

6.6 cu. ft.

Dispenser

Door

Smooth

Shelves

4

2

Control

Digital Temperature Control

Energy

15 A

Other Features

Automatic

Approved for Commercial Use

Standards/Ratings

Dimensions

35.63 in.

70.13 in.

35.63 in.

32.88 in.

48 in.

Miscellaneous

883049193816
Add Review